ECB's Draghi Sees Vigorous Pickup in Core Inflation; Euro Jumps
(Bloomberg) -- Mario Draghi said he sees a "relatively vigorous" pickup in underlying euro-area inflation, signaling that the European Central Bank is well on track to raise interest rates late next year.
The ECB president told the European Parliament in Brussels that his institution's economic projections -- which show headline inflation averaging just 1.7 percent through to 2020, below the goal of just under 2 percent -- conceal an improvement in fundamental price pressures.
The euro jumped after the remarks, reaching the highest level since June. It traded at $1.1784 at 4:28 p.m. Frankfurt time, up 0.3 percent on the day. Bunds extended losses, and the Stoxx 600 index fell to a session low.
"Underlying inflation is expected to increase further over the coming months as the tightening labor market is pushing up wage growth," Draghi said on Monday. "Domestic price pressures are strengthening and broadening."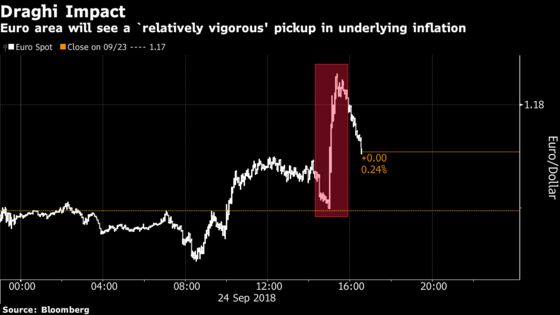 The ECB is due to end its bond-buying program in December and expects to keep interest rates at record lows at least through the summer of 2019. Policy makers have acknowledged market expectations for a hike around the final quarter of next year.
While Draghi discussed ECB communications, he didn't elaborate on comments made by two of his closest colleagues last week on how to signal the pace of rate hikes. Executive Board members Benoit Coeure and Peter Praet said that as the so-called liftoff nears, officials will need to say something about the speed of tightening to avoid stirring up markets.
Responding to questions from lawmakers, Draghi tackled issues including Italy's populist government and its spending plans, the implications of a no-deal Brexit, and the region's recent money-laundering scandals.
The ECB chief switched to his native Italian to draw attention to the financial tensions over the nation's populist administration, which has some euro-skeptic members and which is preparing a budget that could worsen its debt burden. He said the jump in government bond yields is spilling over into higher loan costs for small and medium-sized business and consumers.
Draghi also became noticeably more strident when one lawmaker referred to imbalances in the euro area's Target2 payment-settlement system and said the ECB was buying Italian loans.
"No, not true, full stop. No," he said. "It has bought government bonds and corporate bonds in each and every country according to its capital key. There is no privileged eye toward one country. We run monetary policy for the whole euro zone."
Draghi said the ECB wants to see a deal on the U.K.'s exit from the European Union that doesn't compromise the single market. He also acknowledged that his institution and the Bank of England are jointly studying how financial contracts would be regulated if the U.K. leaves without an agreement, but that much depends on what governments come up with.
"We urge private parties to do all necessary preparations," he said.
Amid concern that loose policy could lead to financial instabilities such as over-inflated house prices, Draghi said officials are monitoring those risks "quite intensely." But he also said they should be tackled by macroprudential policy, leaving the central bank to maintain its focus on consumer prices.
The president reiterated the ECB's call for a single European authority to tackle money laundering, a problem that has burst into prominence this year in Latvia and Estonia. He also said the central bank is not necessarily the appropriate body.
"The capacity of the ECB to change the situation is relatively limited," he said. "It's no mystery to say the current situation is not satisfactory."