ECB 'Bully' Forces Credit-Risk Scramble, Says JPMorgan's Michele
(Bloomberg) -- Central banks hellbent on cheap money are strong-arming investors into riskier bond bets, and there's little reason to fight it for now, says Bob Michele.
The chief investment officer at JPMorgan Asset Management is touting Spanish government bonds and European bank capital notes, as negative yields engulf the region's bonds.
"The ECB has bullied us and the rest of the market into it," Michele said in an interview with Jonathan Ferro on Bloomberg TV Wednesday. "They're not going to raise rates so that leaves us scrambling for yield. They're going to maintain the balance sheet so it ends up backstopping countries like Spain."
Whether an ECB design to drive capital to the neediest areas, or fears about Japanese-style stagnation playing out, for Michele it's a green light to "grab the yield."
Expectations that Europe is hurtling into a decade of lowflation and anemic growth are keeping German bund yields near zero and prompting policy makers to renew pledges of support. Since European Central Bank chief Mario Draghi said last month he's ready to "adjust all" policy tools, money has poured into places like Italy, Spain, Portugal and corporate credit of all stripes.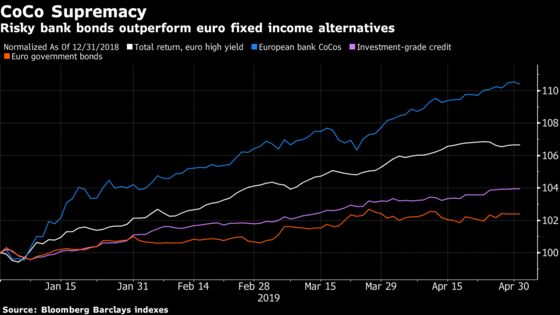 After they hoarded cash in December and then got blockbuster fund inflows, fixed-income managers are putting money to work. European corporate bonds are having their best start to a year since 2012, according to data compiled by Bloomberg.
Bank capital in the form of contingent convertible bonds, also known as additional tier 1 notes, have returned more than 10 percent this year, outpacing euro-denominated junk and euro government securities.
All that is stoking fears monetary largesse is masking shaky fundamentals, and blindsiding investors to potential pitfalls. Banco Santander SA exemplified idiosyncratic risk in subordinated bank debt with its shock decision in February not to call a CoCo bond at the earliest opportunity.
"Looking at yield itself is not sufficient, as there are a lot of optionalities embedded in the product,'' said Gilles Pradere, a portfolio manager at RAM Active Investments SA, which oversees $4.5 billion. In a recession "I suspect the market will handle the risk of losing everything with a very large discount," he said.
Federal Reserve policymakers repeated Wednesday they would be "patient" as the central bank weighs future rate moves and the outlook for inflation. The Fed's dovish pivot this year unleashed "animal spirits" reversing the fourth-quarter meltdown, according to Scott Minerd, chief investment officer at Guggenheim Partners.
"There is some point where this long period of accommodation has to become concerning to the stability to the financial system when the Federal Reserve does eventually face a recession in the future," Minerd said in an interview with Bloomberg TV.
For now, it's Europe's flagging growth drawing Americans. A weaker common currency and interest-rate differentials boost returns for those who convert euro-denominated purchases into their home currency.
"You're buying European assets, you're hedging it back to dollars, you're picking up close to 3 percent," Michele said.