Cautious Firms Shun Europe Debt Deals in Early Christmas Wind-Down
(Bloomberg) -- Europe's corporate debt market is closing its doors for the year earlier than ever before as it falls victim to a global spike in volatility.
Investment-grade corporate bonds haven't seen a deal for over a week and the last junk sale was in November, raising the prospect of the first dry December since at least 2014. That's a stark contrast to the U.S., where issuance has roared back to life this week, with companies including Daimler Trucks Finance North America racing to issue $17.5 billion in new deals.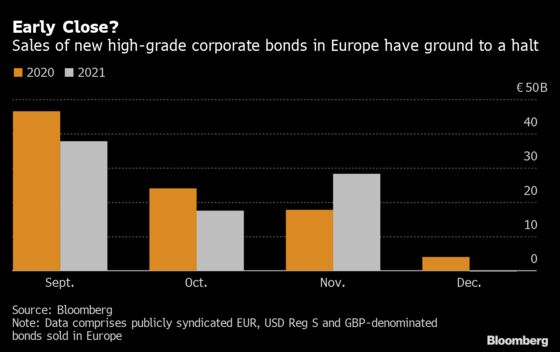 Borrowers in Europe are avoiding deals as they weigh whether existing coronavirus vaccines will protect against the omicron strain and its many mutations. That sent euro borrowing costs to the highest since March 2020 and pushed a measure of credit risk for the region's weakest companies to the highest in two months.
"The new issue market is more difficult as investors have been signaling across all products that they are keen to protect performance for the year," said Henrik Johnsson, co-head of capital markets and European investment banking at Deutsche Bank AG. "This means there will be a higher bar for new issues."
Europe hasn't had a high-grade corporate debt deal since Nov. 25, when TDF Infrastructure SASU raised 800 million euros ($903.6 million) of eight-year notes, according to data compiled by Bloomberg. 2020's record-setting sales saw Iren SpA price euro notes on Dec. 10, while the final high-grade deal in the previous two years was on Dec. 3.
"The increase in volatility at the end of last week may further lead the pipeline to come to an end for this year," said Paula Weisshuber, head of EMEA corporate debt capital markets at Bank of America Corp. "This week, and due to European holidays maybe one day next week, are the last windows for potential issuance."
It's a different story in the U.S., where borrowers are rushing to lock in cheaper funding costs before the Federal Reserve begins phasing out asset purchases. The bank's original mid-2022 tapering timeline could be brought forward, with policy maker Loretta Mester this week saying she's "very open" to scaling back purchases at a faster pace to accommodate multiple interest-rate rises next year.
In Europe, the rate-hike timeline has been pushed further out, with ECB President Christine Lagarde this morning saying an increase next year is very unlikely. Yet with 2022 likely to be another volatile year for global markets, some issuers could try to pre-fund ahead of January's seasonal issuance bonanza.
The flow of deals has dwindled across the year, with high-grade corporate bond sales about 35% lower than 2020's tally, when companies flooded the market in a coronavirus-fueled dash for cash as lockdowns grounded economies. Now, firms are still capitalized, flushed with money parked in banks. 
"It is all about the efficiency of the market, with issuers across sectors having locked in historically-low coupons and bringing forward their funding plans to take advantage of that," said James Cunniffe, director for corporate syndicate at HSBC Holdings Plc in London. 
Elsewhere in the credit markets:
With less than a month to go, year-to-date primary market bond issuance of over 1.6 trillion euros is still 5.7% behind the full-year sales of 2020.
And historic records show the average issuance for December may not be enough to boost the year's tally to 2020's 1.7 trillion euros
The UK Municipal Bonds Agency plans to sell the first ethical bonds on behalf of local governments early next year
Euro high-yield and IG spreads are set to widen around 50 and 20 basis points respectively next year, according to Danske Bank analysts
U.K. asset manager Abrdn Plc is seeking funds to beef up its capital structure for new regulatory requirements coming into effect next year
The Export-Import Bank of Korea is inviting banks to pitch its potential SEC-registered dollar bond sale early next year.
Singapore-based financial services firm WLB Asset II C Pte. Ltd. is raising a sustainability bond to extend loans to women-focused enterprises
Meanwhile, Chinese developers continued to face repayment challenges

Kaisa Group Holdings Ltd. failed to win bondholder approval for a debt swap, and has yet to pay interest due Wednesday on a dollar bond
China Aoyuan Group Ltd. warned it may be unable to make certain debt payments following a series of rating downgrades
Daimler Trucks Finance North America sold $6 billion of bonds in eight parts ahead of the planned split between Daimler's trucking and Mercedes-Benz luxury car divisions.
Occidental Petroleum Corp. is offering to buy back as much as $2 billion of bonds as the oil driller continues to work on slashing its debt since being cut to junk status at the onset of the pandemic
The spread on the Bloomberg U.S. Investment Grade Corporate Bond Index widened 2 basis points to +101, widest in almost a year
Read also: Fed May Bring Fastest Tightening of Real Rate in Decades: Chart