Dutch Mapmaker TomTom Is Keeping 'Open Mind' on Deals, CEO Says
(Bloomberg) -- Dutch digital mapmaker TomTom NV is receptive to more collaboration with automakers and technology companies, but its future success doesn't hinge on any big tie-ups, according to Chief Executive Officer Harold Goddijn.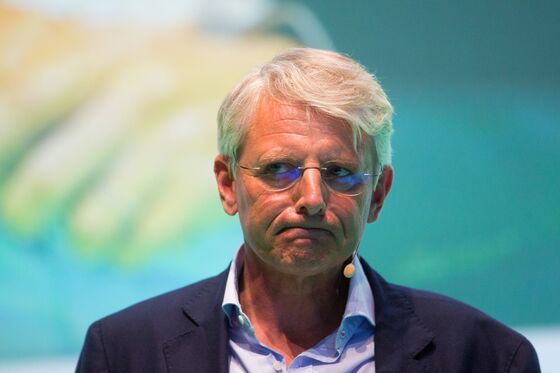 Within the car industry "things are changing and we want to keep an open mind," he said in an interview on Thursday in Paris. Yet, the CEO added, "We're an independent company and we are flourishing partly because we are the Switzerland of mapping technology."
Speculation about TomTom has swirled in recent months as car manufacturers and tech firms partner to develop autonomous features in vehicles. The Dutch company's decision to sell its telematics fleet-management business has also fueled the fire, with TMT Finance reporting unsolicited bids to take over the whole company came from at least three private-equity firms during the process.
"What is for sale is the telematics business" only, Goddijn said, declining to comment on what he called "rumors."
TomTom is confident of completing the divestment in the first quarter of 2019. Strong interest in the division that's focused on vehicle-related data and intelligence for connected car services "doesn't mean that we'll be able to divest it, but it looks okay," he said.
In offloading telematics, TomTom will focus on location technology because "that's where the biggest opportunity is," he added.
The Dutch manufacturer has shifted its focus to mapping as customers ditch its dedicated personal navigation systems for ones built into smartphones. Yet that market has also thrown up the same powerful competitors including Apple Inc., which is also building a custom maps infrastructure.
The most recent setback for TomTom was the scrapping of a maps deal with Volvo Cars. This followed a move in September by Renault SA and associates Nissan Motor Co. and Mitsubishi to sign on with Google's Android operating system and maps, effectively phasing out a collaboration with the Dutch company in most regions.
Read More: TomTom Claws Back With BMW, PSA After Loss to Google on Renault
The CEO brushed aside those worries, pointing to a pipeline of projects. The company is counting on the arrival of self-driving cars to introduce new applications for passenger autonomous driving as early as in 2021. It also has a high definition map offering for a truck maker in 2019 that will help save fuel.
Goddijn sees the company generating around 850 million euros ($961 million) in revenue this year, compared with 1.7 billion euros in 2007. Gross margins will have almost doubled compared to a decade ago.
"Can we go back to 1.7 billion euros? I think we can," he said. "We are OK. We aren't forced to do anything stupid. We're not in a hurry."