Dubai Bourse Set for First IPO in Three Years With Al Mal Capital
(Bloomberg) -- Al Mal Capital plans to sell shares in its real estate investment trust in January, looking to draw a line on Dubai's property slump and setting the stage for the first initial public offering in the emirate since 2017.
The company has received regulatory approval to list Al Mal Capital REIT on Dubai Financial Market PJSC, according to a statement on Monday. It's targeting an offer size of 500 million dirhams ($136 million) to acquire a diversified portfolio of assets in real estate and sectors such as health care and education.
New offerings have become rare in Dubai, with the main index down 40% over the past three years on the back of an economic slowdown that's been made worse by the slump in oil prices and the coronavirus pandemic. The firm would be the first REIT to list on Dubai's biggest and most liquid stock exchange, though two REITs already trade on the Nasdaq Dubai bourse.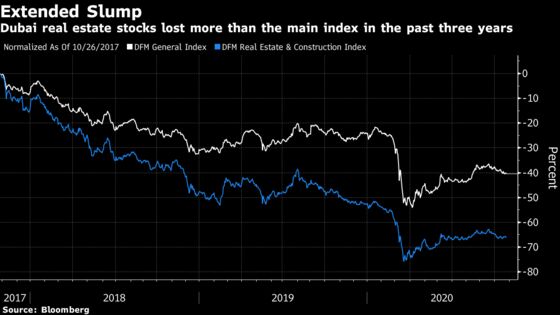 Chronic oversupply has battered property values and rents in the city over the past six years, and measures to curb the Covid-19 outbreak have aggravated that decline.
While the outlook remains bleak as jobs are lost and more expatriates move out, Naser Al Nabulsi, vice-chairman and chief executive officer at Al Mal Capital, said prices and demand are already stabilizing.
"This drop in real estate is creating an opportunity for lower inflation, better income and more creativity of getting new businesses," he said in an interview on Monday. "The real estate market here is very volatile and we understand that, but again the infrastructure has been built extremely well."
The company is targeting net dividend yield above 7%
IPO subscription period is Nov. 8-19
Subscription price 1 dirham per unit, subscription fee 0.02 dirhams per unit
The offer will at first be restricted to nationals of the Gulf Cooperation Council countries and then become open to foreigners
Other comments from Al Nabulsi:
"The market is a bit shaky in certain areas but as strong as other areas. I would say retail is difficult, commercial is difficult, residential is difficult. But it's almost bottoming too. It came to a level that becomes affordable for people to buy and attractive for people to come and move and live here and to start their own businesses."
"We believe that even if there's a slowdown, people will always need to go to hospitals, people will always need to go to schools."
"The correction is good for the economy, bad for the current owners. It's a good opportunity for new investors to come into the market."
"We are in difficult financial

market conditions

worldwide and tourism in Dubai is picking up strongly. That gives me a sign this is a great time to invest in real estate."