Drugmaker Stocks Could See Tailwind From U.S. Midterm Elections
(Bloomberg) -- Investors may pile back into pharmaceutical and biotechnology stocks if midterm U.S. elections result in the expected stalemate between two major parties at odds on how to tackle escalating drug prices.
Gridlock in Congress for at least the next two years would lessen the risk of disruptive, government-dictated pricing changes, according to analysts. On the flip side, a Democratic sweep would be likely to shift the focus to drug manufacturers and away from the rebates drug companies earn from selling their products to federal health plans.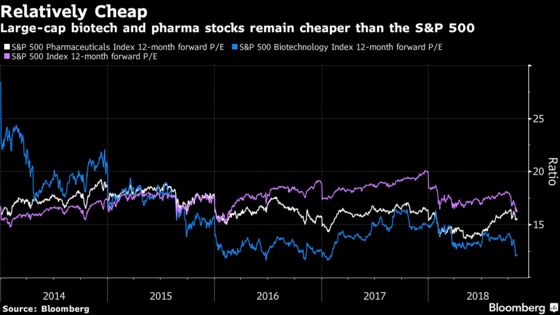 "The best outcome is a split legislative branch so you get more of a stalemate for the next couple of years," William Blair analyst Matt Phipps said by phone. "Removing the uncertainty of election outcomes is likely a clearing event so investors can focus on companies' drugs again."
Large-cap pharma stocks have rallied since the summer as investors searched for safety from trade tensions. Analysts see further gains for the sector with either a split Congress or a Republican sweep. In these scenarios, legislative action on drug pricing would probably be put off until after the 2020 presidential election, Morgan Stanley's David Risinger said.
Jared Holz, a health specialist at Jefferies, expects the Health Care Select Sector SPDR Fund will outperform the S&P 500 Index with a split Congress. Holz also sees an attractive entry point in biotech at current levels, barring another major market sell-off.
However, he said a Democratic sweep would trigger a "fear trade" out of drug stocks as pricing of high-profile medicines is likely to come under the microscope. With full control of Congress, Democrats could push for Medicare-negotiated pricing, which is one of the industry's biggest fears. Goldman Sachs said there's a chance Trump wouldn't veto such a move ahead of the 2020 election.
"President Trump has, at times, appeared sympathetic" to giving the federal government the authority to control prices, said Bloomberg Intelligence senior government analyst Brian Rye. "That's an area of disagreement sometimes between the president and Republican leaders in Congress."
Revenue for some of the biggest medicines has been largely dependent on price hikes over the last three years, according to an analysis from Leerink. Amgen Inc.'s top-selling Neulasta and Enbrel, as well as blockbuster drugs from Biogen Inc. and Johnson & Johnson ranked near the top of Leerink's list of drugs that derived sales growth from price increases.
While sweeping regulatory changes are unlikely in the near term regardless of how the election turns out, Compass Point analysts said investors in the pharmaceutical industry should be following the rhetoric in advance of the next election.