Drama Erupts in the Tiny Corner of High-Yield Munis
(Bloomberg Opinion) -- There's nothing quite like big drama in a relatively small market.
The latest public spat isn't about manipulation on a global scale, like foreign exchange or the London Interbank Offered Rate. Nor is it about trading stocks on inside information. It centers on the U.S. municipal-bond market, specifically a dispute between investors involved in the small corner devoted to high-yield state and local government debt. Bloomberg News's Martin Z. Braun has the details:
Nuveen's head of municipal bond investments, John Miller, engaged in a "campaign of intimidation" to coerce banks that underwrite high-yield state and local government debt deals from doing business with Preston Hollow Capital, the Dallas-based lender alleged in a lawsuit.

Miller and his staff at Nuveen, which oversees more than $140 billion in municipal assets and is the biggest buyer of the market's high-yield debt, threatened to use its power to pull tens of millions of dollars in business from banks that engaged in limited offerings with Preston Hollow, the firm said. Chicago-based Nuveen also made threatening, anti-competitive and defamatory statements about Preston Hollow to the firm's primary lender, the suit said.

...

A Nuveen spokesman said the company and Miller believe the claims are without merit and intends to vigorously defend itself against the allegations.
On its face, this is a David and Goliath story. The Nuveen High Yield Municipal Bond Fund has $17.5 billion in assets, easily topping every competitor; it's bigger than the second- and third-largest funds combined. Preston Hollow, on the other hand, is a scrappy newcomer. Founded in 2014 by Jim Thompson, a former chief executive officer at Orix USA, Preston Hollow lends directly to risky projects. So far, it has extended $2 billion in loans. Braun cites some examples: a hotel in a Dallas suburb; hospitals in California and New York; student housing in Pennsylvania; roads, sewers and other infrastructure in the suburbs of New York City, Cleveland and Atlanta.
I don't know what will come of the lawsuit, or whether Miller sought to "weaponize Nuveen's considerable market power." What I do know is that there should be enough room for both Nuveen and Preston Hollow to operate when areas across the U.S. are in dire need of revamped infrastructure. Instead, this sort of dispute ensues, where too much money is chasing too few bonds.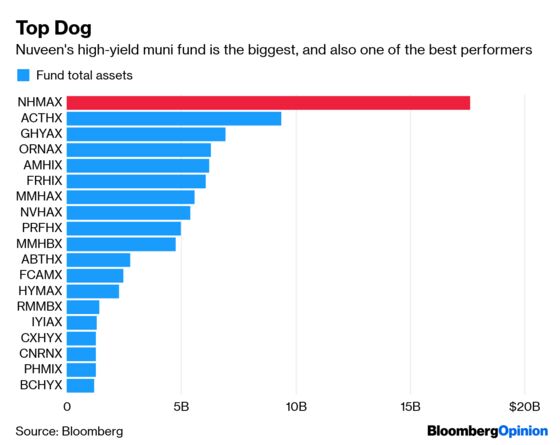 This is hardly a new issue. "No Price Too Steep for High-Yield Muni Funds Desperate for Bonds," I wrote three years ago. More recently, "There's Not Enough Junk Muni Debt for Funds Now Flush With Cash," declared a headline from Bloomberg News's Romy Varghese on Feb. 11. Funds tend to draw cash (or lose it) in waves, and, indeed, high-yield inflows totaled $473 million in the week through Feb. 27, the second highest of the past year, Lipper data show. All told, the funds have added $3.2 billion since the start of 2019.
It's easy to see how this dynamic could become frustrating for someone like Miller, who has to invest somewhere — no one is buying the fund for him to sit in cash — but doesn't want to get burned in the process. Just a couple of weeks ago, he said he'd be interested in helping Virgin Trains USA Inc. finance the next leg of its Florida railroad, even though Nuveen already owns a whopping $505 million of the $600 million of the bonds issued for the project. High-yield muni deals of that size don't come around that often, so fund managers feel the pressure to to grab as much as possible.
Preston Hollow's business model, of course, only exacerbates this issue. Private placements with banks were all the rage after the financial crisis, but they largely lent to governments with high credit ratings, not more speculative projects. Some distressed-debt muni managers exist, but that strategy usually involves taking control of a project that hasn't panned out and restructuring it relatively quickly. Preston Hollow, on the other hand, looks for long-term lending opportunities on projects that banks deem too risky. In other words, the types of speculative-grade or unrated deals that usually reach the public muni market.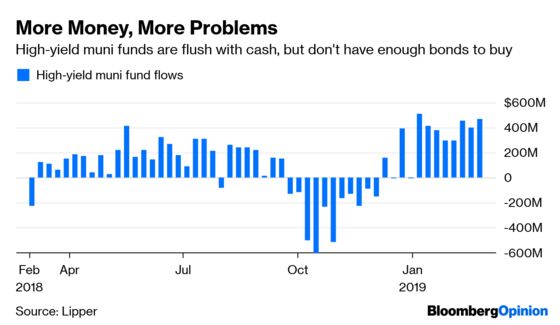 Some past projects that went through the public market tested the limits of what's considered public finance: Construction of nitrogen fertilizer facilities and wood-pellet plants for non-U.S. companies don't exactly spring to mind. But that doesn't seem to be what Preston Hollow is going for. Its pitch is that direct loans aren't subject to the whims of public markets, and borrowers can avoid paying fees to lawyers and credit rating companies. Here's one example of a deal from about a year ago:
Preston Hollow closed a $125 million loan with El Centro Regional Medical Center in California's Imperial Valley near the Mexican border to bring the city-owned hospital into compliance with seismic safety standards and refinance existing debt. About a quarter of El Centro's residents live in poverty and suffer from high rates of diabetes and cancer.

Preston Hollow bought the hospital's tax-exempt bonds yielding 5 percent to 6.38 percent. "They gave us terms better than what we would have had seeking the markets," said hospital Chief Executive Officer Dr. Adolphe Edward.
The private loans have challenges of their own. Preston Hollow's plans to finance a 1,200-room Omni Hotel attached to the New Orleans convention center drew scrutiny because the development team was seeking cash and subsidies worth a present value of $330 million, causing local officials to bristle. The opacity of private placements may only add to taxpayers' resentment.
Still, when "infrastructure week" has become a punchline, it's a wasted opportunity that Nuveen and Preston Hollow can't co-exist and find enough public projects to finance. Again, I'm making no judgment one way or another when it comes to the suit, just that it seems doubtful it would arise in a market rife with deals. My Bloomberg Opinion colleagues have no shortage of ideas on where to start funneling money, from high-speed rail to great public spaces to airports.
Just this week, House Majority Leader Steny Hoyer said that passing an infrastructure plan wasn't likely this year, noting that "while everybody wants to invest in infrastructure, it is more problematic from many perspectives of how you pay for that." 
I can think of a couple of people who have the money to fund at least a few ambitious projects. 
This column does not necessarily reflect the opinion of the editorial board or Bloomberg LP and its owners.
Brian Chappatta is a Bloomberg Opinion columnist covering debt markets. He previously covered bonds for Bloomberg News. He is also a CFA charterholder.