Dubai Takes Port Operator Private to Tackle Looming Debt Pile
(Bloomberg) -- Dubai will take its port operator private after a dozen years to alleviate its debt burden and avoid a repeat of the economic crisis that forced a bailout in 2009.
As a source of cash for the state, DP World Ltd. is a key asset for the emirate as it endures another year of lower property prices and a struggling retail sector. Dubai's government has introduced some counter-measures to revive growth, like easing restrictions on visas and tackling oversupply in the real-estate market.
"This deal reflects the maturity of the government's decision-making process, which is more measured and balanced than a decade ago," said Jahangir Aka, managing director in the Middle East and Africa for Neuberger Berman.
The emirate will pay a 29% premium to acquire the 19.55% of DP World listed on Nasdaq Dubai. As part of the deal, DP World's parent will pay state-controlled Dubai World $5.15 billion to service some outstanding bank commitments.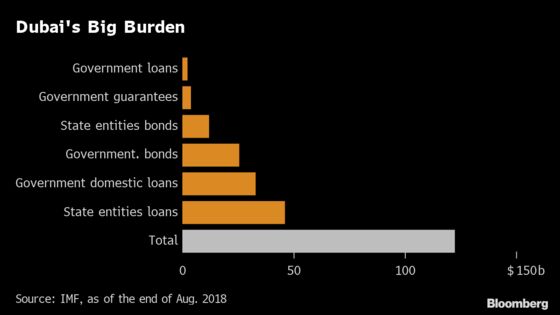 Moody's Investors Service Inc. and Fitch Ratings Inc. both placed DP World under review for a possible downgrade, with Moody's saying "the transaction will weaken the overall credit profile of DP World." The conglomerate has about $11 billion in debt maturing until 2026, according to data compiled by Bloomberg.
The economic slump is a reminder of the 2009 financial crisis that forced Dubai World to restructure $23.5 billion of debt and saddled property developer Nakheel PJSC with $10.5 billion of unpaid bills. Dubai and various government entities held combined outstanding debt of $123 billion, or about 110% of its gross domestic product, according to figures at the end of August 2018 cited in a report by the International Monetary Fund.
Now the city's hopes rest on hosting the World Expo 2020 exhibition, which is expected to spur economic growth after expanding just 2.1% in 2019.
DP World will borrow $8.1 billion in addition to its existing debt.

Port and Free Zone World expects an investment grade rating for DP World from Fitch and Moody's after the deal.

DP World may eventually sell long-term debt to help pay for the acquisition, potentially including senior unsecured bonds and hybrids.
Offer is expected to be completed in the third quarter.
DP World's parent will pay about $2.72 billion for DP World's outstanding shares: Bloomberg calculations.
The delisting plan comes as Dubai faces the prospect of restructuring a chunk of $23 billion in loans to government-related companies maturing at the end of 2021 for a second time, according to Fitch. The emirate has enlisted the help of two of its most trusted officials to steer key companies through the drawn-out slowdown, after they pulled the business hub back from the brink of default more than a decade ago.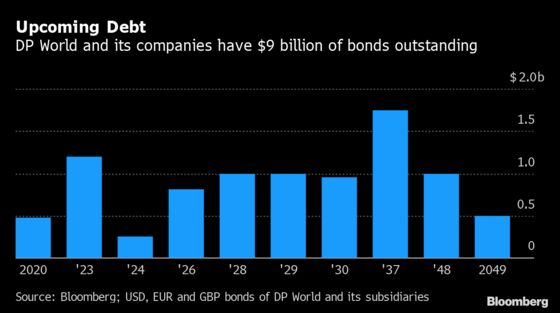 DP World first sold shares late in 2007. It's now saying a listing runs counter to its longer-term strategy because "public markets typically have a shorter-term view around, for example, capital allocation, capital structure, strategic growth acquisitions and shareholder returns," according to a statement on Monday.
The board said its strategy "is not fully appreciated by the equity markets," which has weighed on the share performance. The stock has lost about 50% since a recent peak in January 2018. It rallied 10% on Monday to close at $14.30 in Dubai.
DP World's parent, Port and Free Zone World, "is funding the delisting of DP World entirely with debt and in doing so, freeing Dubai World of its shackles from 2010," said Ahmad Alanani, chief executive officer of Sancta Capital, a Dubai-based alternative investor focused on special situations in the region.
DP World has a global network of 91 marine and inland cargo terminals, stretching from gateways in London and Antwerp to hubs in Africa, Russia and India and the Americas. The company has been on an acquisition spree over the past two years, buying assets from P&O Ferries and P&O Ferrymasters in Europe to Puertos y Logistica in Chile. It also purchased an additional stake in DP World Australia and invested through its joint ventures in Canada and India.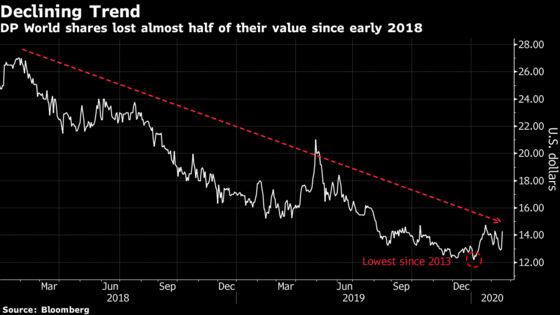 Rothschild & Co. advised DP World on the deal. Deutsche Bank AG and Citigroup Inc. have arranged financing to support the deal.