Dow's Momentum Over Small-Cap Stocks Is Surging to a Record High
(Bloomberg) -- Large-cap U.S. stocks have pulled away from their smaller peers at an unprecedented pace.
The Dow Jones Industrial Average is on the verge of overbought territory, according to a gauge of the magnitude and persistence of price movements known as the relative strength index. Meanwhile, the S&P 600 Small Cap Index is oversold for the first time since February, leaving the spread on this technical indicator at a record high.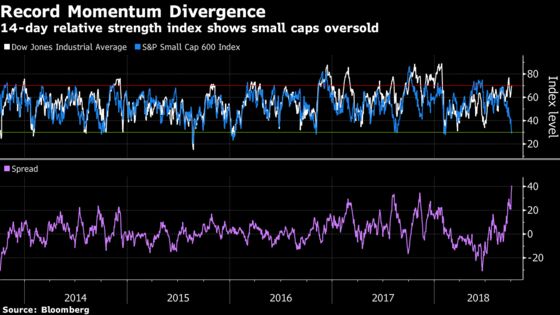 The gauge of smaller stocks is down almost 6 percent since the start of September. The Dow -- made up of 30 industry titans -- is up more than 3 percent over the same stretch.
Blue-chip stocks are benefiting from rising forecasts for earnings, while the ebbing of North American trade tension has reduced the relative appeal of smaller, domestically-oriented firms. The little guys are also more susceptible to rising short-term interest rates, as they have a higher share of floating-rate debt.
The underperforming small caps haven't been enough to derail the S&P 500's advance. Tech heavyweights like Amazon, Apple and Microsoft -- which have all posted fresh record highs within the past month -- continue to dominate the market, responsible for 40 percent of the benchmark stock index's year-to-date gains.