Dow 30,000? You Don't Have to Be Crazy to Believe, Gartman Says
(Bloomberg) -- The Dow Jones Industrial Average has struggled for five months to hold onto gains past 25,000. Economist Dennis Gartman says 30,000 is the real milestone to watch.
Getting there would require a 20 percent rally -- an ambitious leap for a gauge that is essentially flat for the year. But to Gartman, the 67-year-old longtime publisher of a namesake newsletter for investors, the Dow Jones's anemic performance in 2018 has been "nothing more than a massive consolidation phase" in an ongoing bull market.
"If these past 6.5 months are indeed going to prove to have been a consolidation phase, then huge gains, perhaps sufficient to carry the Dow to 30,000" are "technically possible," Gartman said in the letter Wednesday. He added a note of caution: "as exaggerated and as stunning as that may sound."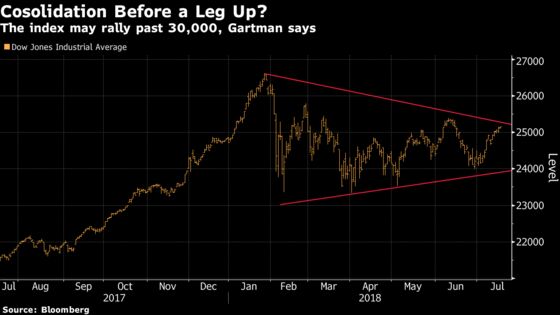 Gartman mentions the 30,000 level more as a possibility than a precise forecast. For skeptics, the idea the index will rally 20 percent to a fresh milestone amid trade tensions and global growth concerns may seem too good to be true.
But Gartman says to look more globally to see that indexes in Asia and Europe are doing something similar. The Euro Stoxx 50 Index has been consolidating near 3,450 for 15 months while German stocks have been doing the same at 12,250 over the past year.
"In other words, this is a global event that is taking place: a possible global
consolidation that is now breaking out to the upside," Gartman said. "This is all the more stunning in that this possible global consolidation is taking place even as global trade is running into trade protectionism and increased trade tariffs, suggesting that the markets believe that our fears of a trade war are overwrought and not likely to come to fruition."
The latest thought train goes against Gartman's more recent calls for a market peak. In mid-March, he made a "watershed" call that stocks were at a "major multi-year top" and said it was time to hold cash. In October, when the S&P 500 was trading in the mid-2,500s, he said markets were overpriced; the index is up almost 10 percent since then.