Jeffrey Gundlach Says Fed Shouldn't Raise Rates This Week
(Bloomberg) -- Jeffrey Gundlach says the Federal Reserve shouldn't raise interest rates when it meets this week, citing concerns about the bond market and expectations that a slowing economy may require policy reversals in 2020.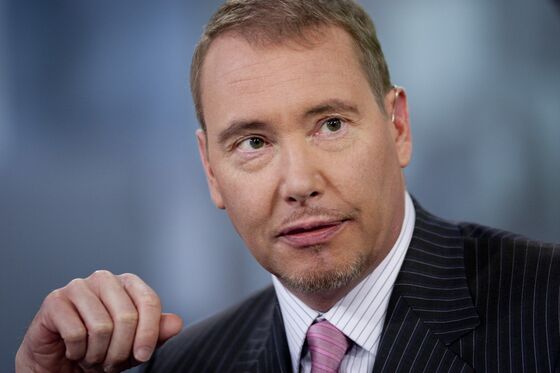 "I don't think they should," Gundlach, chief investment officer of DoubleLine Capital, said Monday in an interview on CNBC. The bond market is saying there's no way the Fed should be raising interest rates, he said.
On Sunday, billionaire investor Stan Druckenmiller urged the Fed to pause its "double-barreled blitz" of higher rates and tighter liquidity when economies are slowing and markets are falling, in an opinion piece in the Wall Street Journal.
The Fed should note developments including global central-bank liquidity reversing from around Oct. 1 and stocks beginning their descent, wrote Druckenmiller, who heads Duquesne Family Office, and Warsh, a visiting fellow in economics at Stanford University's Hoover Institution.
"We believe the U.S. economy can sustain strong performance next year, but it can ill afford a major policy error, either from the Fed or the rest of the administration," wrote Druckenmiller and Kevin Warsh, a former member of the Federal Reserve Board.
In other comments, Gundlach said:
2019 is a capital preservation year with stocks likely to continue a bear market
Best bets are actively managed, high-quality, low-volatility, low-duration bond funds
The U.S.-China trade war is likely to get worse, hurting the global economy, as China objects to President Donald Trump's rhetoric
Exploding U.S. deficits are likely to drive up the cost of borrowing -- and Treasury rates -- as supply outstrips demand