Don't Let the Equity Rally Fool You: Europe Growth Is Still Poor
(Bloomberg) -- European stocks may be enjoying an epic new-year rally, but don't be tricked into thinking that fundamentals have improved.
Bank of America Merrill Lynch's composite macro indicator (CMI) for Europe remains strictly bearish, with all six inputs falling for the second month. The biggest negative signals, according to the bank's strategists, are a drop in European safe-haven bonds and cuts to gross domestic product forecasts, which come on top of earnings outlook downgrades.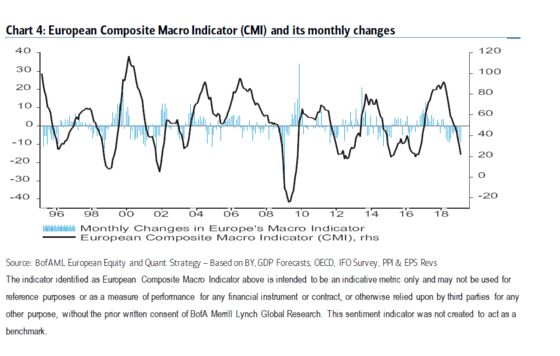 "The year-to-date rally in European equities hinges on the fall in Euro high-yield spread, corresponding to an increasingly dovish Fed policy stance, but fundamentally nothing has changed," said Bank of America strategists led by Manish Kabra. "A falling and weak CMI suggests a higher risk of pullbacks in European stocks."
Amid these troubling economic trends, Bank of America analysts recommend being overweight quality-at-a-reasonable-price stocks, large over small-caps and avoiding momentum equities. The spread between European dividend and bond yields is near a record high and indicates that more investors will be hunting for yields in equities, the strategists said.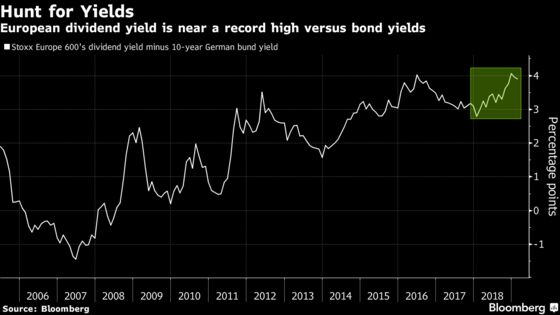 The Stoxx Europe 600 Index is up 8.5 percent this year amid investor optimism about the Fed's softer stance and bets that the U.S. and China will strike a favorable trade deal. Miners, retail and tech sectors have been leading the gains in 2019, with telecoms the only declining industry.
European equity funds had the biggest outflows among major regions last year as messy politics in Italy and the U.K. as well as slower earnings growth chased investors away. Last week the region's stock funds saw their first inflow in 22 weeks, with a small addition of $200 million, according to EPFR Global data.
Just last week the European Commission issued sweeping downward revisions to projections for Germany and many of the euro area's major economies.