Analysts Flash Warnings on the World's Best Stock Rally
(Bloomberg) -- Indonesian stocks are heading for their best two-day gain since 1989 -- one of the world's biggest rallies -- but analysts are warning it's too soon to get too bullish.
The Jakarta Composite Index jumped as much as 8.3% Friday, taking its two-day advance to 19% after the gauge hit its lowest since 2012. Meanwhile, the rupiah strengthened for a third day and the yield on 10-year government bonds fell below 8% for the first time since March 18.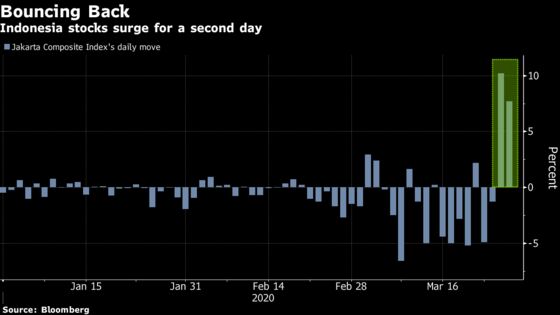 Still, the near-term outlook for the country remains challenging as the nation is facing risks of capital outflows and weaker exports amid the coronavirus outbreak, with infections still on the rise, according to a note from UBS Group AG strategists including Joshua Tanja.
The market now is pricing in flat earnings growth for Indonesian companies, even though a deeper economic slowdown is taking place, implying there could be further cuts to analysts' profit estimates, they said.
Growth in Southeast Asia's largest economy was already suffering before the virus prompted authorities to impose partial lockdowns in several regions. While foreign investors put more than $41 million in the nation's equity funds on Thursday, the most since January, outflows for the year still surpass $700 million.
Despite the recent gains, the benchmark index is heading for a 14% plunge this month, its worst since October 2008.
"The rally in the past two days feels like a crazy roller coaster," said Thendra Crisnanda, head of research at PT MNC Sekuritas. "Investors are trading as if everything were over, when it comes to the coronavirus outbreak in Indonesia, while the number of cases is still rising and has not reached the peak. It could be a bear-market trap."
Worries aside, the valuation for Indonesia's stocks is "getting interesting," according to UBS.
It's already pricing in "a lot of risks" including a weaker rupiah, and the Jakarta Composite may rebound to 5,060 -- or about 8% from current levels -- if the currency stabilizes, the team said. The index trades at 1.3 times book value, near its lowest level since 2003, data compiled by Bloomberg show.
UBS recommends defensive names that include strong U.S. dollar earners, with PT Telekomunikasi Indonesia Persero, PT Indofood CBP Sukses Makmur and cigarette maker PT Gudang Garam among the picks.
The recent drop in the U.S. dollar and stimulus measures to help counter the virus impact are providing a big boost for Indonesia, according to Wellian Wiranto, an economist at Oversea-Chinese Banking Corp.
"While there are still many dark clouds out there, the market can enjoy the rare day of sunshine for now," Wiranto said. "It's going to be a long-haul battle."
See also:
Asia Stocks Wrap
Global Markets Wrap
Markets Live Blog