Dollar Stumbles Into 2021 as Bets on Global Recovery Dominate
(Bloomberg) -- The U.S. dollar kicked off the new year with a weak start as expectations for a global economic recovery bolstered demand for riskier assets.
The euro rose as much as 0.7% against the dollar toward a high last seen more than two years ago, while the greenback touched the weakest level against the Chinese yuan since June 2018. Stocks and gold rallied as the market brushed aside concerns over the accelerating spread of the virus.
Investor sentiment is improving as coronavirus vaccines are rolled out and data point to a broad-based up-tick in economic activity. That's undermining the case for the U.S. currency, the haven currency of choice for most investors. It capped its biggest annual drop since 2017 last year.
"Uncertainty is diminishing and the strong global growth recovery should favor the rest of the world," said Patrik Schowitz, global multi-asset strategist at JPMorgan Asset Management, which is underweight the dollar. The currency's weakness is likely to be most notable "against the emerging markets foreign-exchange complex, which should have cyclical upside and is still relatively cheap."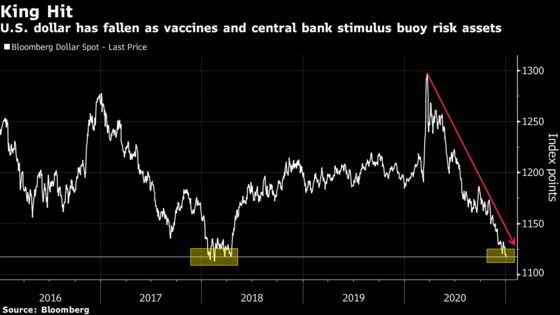 The Bloomberg Dollar Spot Index fell 0.5% to its lowest level since February 2018. It ended 2020 5.5% weaker. Speculative positions against the currency were at the most in almost a decade, according to data from the Commodity Futures Trading Commission for the second last week of December.
"The markets are following the 2021 buy-everything play book to the tee," said Stephen Innes, a strategist at Axi. "I would not be surprised if a lot of packed in risk premium continues to come off the curve" especially if the U.S. Democratic Party wins the Senate election in Georgia on Tuesday.
President Donald Trump urged Georgia election officials to "find" thousands of votes and recalculate the election result to flip the state to him as he tries to dispute Joe Biden's election win.
China's yuan is likely to be a "standout" beneficiary from a weaker dollar thanks to "yield erosion and twin deficits" that are weighing on the greenback, said Patrick Bennett, strategist at Canadian Imperial Bank of Commerce in Hong Kong. The onshore yuan rose as much as 1.1% on Monday and breached the 6.5 level for the first time since June 2018.
The yuan's yield advantage over the dollar, which is near the widest on record, is also driving capital inflows. Reserve managers probably increased their holdings of the Japanese yen and the yuan in the third quarter of 2020, according to a Goldman Sachs note, based on an analysis of data from the International Monetary Fund.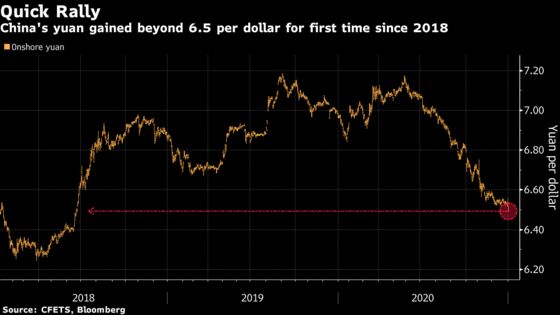 "There is still plenty of scope for the global economy to do better than consensus forecasts," said Kit Juckes, chief foreign-exchange strategist at Societe Generale SA. "Fretting about policy normalization will be a recurrent theme for 2021, but hey, it's the first working day of the year and for now, those falling U.S. real yields and the positive risk mood can drag the dollar lower for a while yet."