Dollar-Bond Sales Just Keep Coming in Asia, But Buyers Choke
(Bloomberg) -- It's shaping up to be yet another record year for dollar-bond sales in Asia, but this time around buyers are getting a whole lot less welcoming.
The Chinese demand that propelled the offshore Asian bond market to about $1 trillion is now on the wane, bond dealers say. Increased regulatory scrutiny has left funds with less capacity to grow their balance sheets, and rising dollar Libor rates are driving up funding costs, making it tougher to make leveraged bets. Expectations in some quarters of sustained gains in the yuan have also eroded appetites, market players say.
The bottom line is the nature of the market is quite different from the days of "drive-by" bond deals in 2017, despite the near 3 percent climb in issuance to about $122 billion so far, according to data compiled by Bloomberg. The combination of abundant supply and pickier demand has made for the worst Asian dollar-bond returns for the start to a year since 1997, with a 2.36 percent loss, ICE Bank of America Merrill Lynch indexes show.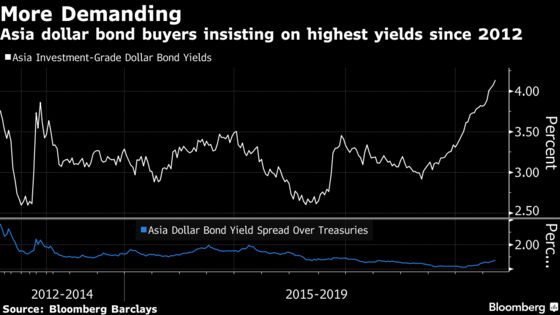 "The market needs to rebalance," said Paul Lukaszewski, head of Asian corporate debt and emerging market credit research at Aberdeen Standard Investments Ltd. in Singapore. "The pace of issuance has remained elevated thus far despite the fact that the flow of capital from China into dollar corporate bonds has clearly slowed."
Chinese investors are critical because they take up about 80 percent of their nation's corporate offshore debt issuance, which in turn accounts for about two-thirds of Asian sales, according to Aberdeen Standard. They've been so influential that to some degree they crowded out global bond fund managers when it came to primary issuance, market players say.
That increased local bid had given Asia's dollar-bond market some stability -- for example, when high-yield debt premiums spiked in the U.S. market amid a bout of geopolitical tensions last year, their counterparts in Asia outperformed. With greater knowledge of Chinese issuers, Chinese demand was seen as offering a solid base compared with potentially more fickle investors from outside the region.
Yet even during the 2017 boom, it was apparent that there were still risks in the new structure -- they had just shifted. The increased reliance on Chinese demand left the market vulnerable, for example, to regulatory changes in China that could affect purchases of dollar securities.
But the increased yields triggered by less aggressive Chinese demand could be laying the seeds of a rebound.
"We see the recent soft performance as creating some interesting entry-points within parts of the Asian credit market," Lukaszewski said.
Owen Gallimore, head of credit strategy at Australia & New Zealand Banking Group in Singapore, agrees. "We expect losses to deepen short-term, but pockets of value are emerging medium term. A stabilization in Treasuries and the high coupon carry should see some improvement into the end of the year."
Here's some further comment from market participants:
Sebastian Ha, head of the debt syndicate at Bank of China in Hong Kong:
"Chinese investors -- being more selective these days, staying on the sidelines -- are indeed making the overall liquidity pool seem thinner."
Joanne Wong, head of debt capital markets at Bocom International
"We have already seen some private banks become more selective on what they would provide leverage to."
The bid from private banks themselves "is more selective as well," in part because of the increase in funding costs, she said.
Leong Wai Hoong, a senior portfolio manager at Nikko Asset Management in Singapore:
"While we underweight Asian corporate dollar bonds in this sell-off, we don't believe there is justification for the market to free fall."
"Just like other markets in global fixed income, we deem this current market as an unwinding of past excesses."
Alaa Bushehri, head of global EM corporates at BNP Paribas Asset Management in London:
"We do see a softening in the China bid."
For non-Chinese investors, that means "allocations, in our view, have been filled more than they would have been," she said.