Japan Victory Over Mobile Carriers Triggers $34 Billion Rout
(Bloomberg) -- NTT Docomo Inc. led a 3.8 trillion yen ($34 billion) stock rout of Japan's top three mobile carriers after it appeared to cave in to pressure from the government, which has long claimed the nation's phone bills are among the highest in the world.
Docomo, which said Wednesday it may cut rates 40 percent and "return" 400 billion yen to customers, plunged as much as a record 15 percent in Tokyo trading on Thursday. Rival KDDI Corp. tumbled as much 17 percent, and SoftBank Group Corp. slumped as steeply as 9.1 percent amid concern that they will follow suit.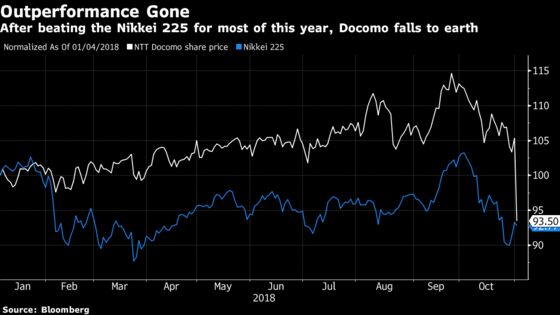 Docomo's plan to cut rates in the year starting April 1 sparked concern that industry profits will slump for years, exacerbating a market that's already plagued by saturation and increasing competition. The move comes after Japan's government, particularly Chief Cabinet Secretary Yoshihide Suga, repeatedly called for carriers to reduce phone bills.
"What surprised investors is Docomo will take about five years to recover above the profit level for the current fiscal year," said Naoki Fujiwara, chief fund manager for Shinkin Asset Management Co. in Tokyo. "Other major mobile carriers may have little choice but to follow Docomo with price cuts."
During its earnings announcement on Wednesday, Docomo unveiled a mid-term plan that signaled its profits won't recover until fiscal 2023. Docomo reduced its forecast for net income in the current fiscal year by about 3.6 percent to 670 billion yen, which would mark a 10 percent drop and the first annual decline in years.
Docomo's warning on Wednesday that the company will offer plans starting April 1 that will lower rates by 20 percent to 40 percent overshadowed the announcement that it will repurchase as much as 7.24 percent of its stock for 600 billion yen to help drive up shareholder returns. It will consider canceling all the shares it buys back.
On Thursday, KDDI President Makoto Takahashi said the company won't follow Docomo's price cuts. He said the company had already introduced lower rates.
SoftBank said it is considering its pricing based on competition and user needs.
The latest round of comments by government officials began in August, when Suga said carriers have room to cut bills by 40 percent. In response, investors lopped more than $14 billion off the combined market value for the three big carriers over two days. The shares had fully recovered from that plunge, only to plummet on Thursday.
Japanese carriers are a big part of the Nikkei 225 Stock Average, with the big three accounting for about 6.7 percent of the index's weighting. The benchmark fell 1.1 percent on Thursday.
Separately, KDDI agreed to provide Rakuten Inc. with roaming services for the latter's 4G mobile network to be launched in October next year. Under the deal, Rakuten will provide its payment platforms and network of affiliated stores for KDDI's "au Pay" barcode-and-QR payment service starting in April. KDDI also reported operating income rose 4.9 percent to 272.8 billion yen in the three months ended September, while sales gained 1.9 percent to 1.24 trillion yen.
Docomo parent Nippon Telegraph & Telephone Corp., the former monopoly that counts on mobile communications for about 40 percent of profit, slid as much as 14 percent.
Japan's mobile-phone bills are the second highest among Organization of Economic Cooperation and Development nations, according to estimates compiled by the group. High users in Japan paid an average of $69.79 a month as of May 2017, about twice the $31.46 average, the data show. The OECD based the estimate on a package of 900 calls and 2 gigabytes of data.
The carriers have said the OECD estimates don't accurately reflect average prices for their services across various plans.