Diverse Startups Raise More Cash, Return More to Investors
(Bloomberg) -- Startups with ethnically diverse founders are eventually able to raise more operating cash and return more capital to investors than those formed by all-white executives, even as they were less likely to win funding in the first place, a study shows.
Companies with diverse founders ultimately outperform others by 30% when they go public or are acquired, according an analysis of nearly two decades of data by the Kauffman Fellows Research Center. While diverse firms have less access to venture capital in the early going, they tend to raise more money in subsequent rounds, the report concludes.
"Ethnically diverse teams do have a harder time fundraising, they get opportunities far less, but when they'd successfully fund-raise, the median amount they raise tends to be more across all stages," said Collin West, co-founding partner of the Kauffman Fellows Fund and a co-author of the report with Los Angeles-based MaC Venture Capital.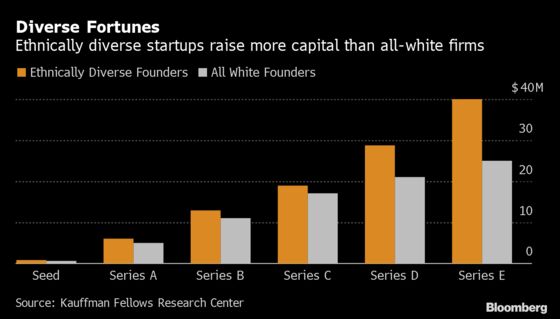 While individual firms with diverse leadership can outperform others once they manage to survive the early rounds, they still represent a small slice of companies vying for capital. That's how white-run companies win about 80% of funding deals at each level, the study shows. More than 79% of startup executives are white, around 16% are Asian, and blacks and Latinos together account for less than 5%, the study found.
The problem is not in the pipeline. The study also looked at the educational attainment of the potential startup workforce over that same time period and determined that the concentration for Asian, black and Hispanic graduates is rising, displacing white graduates in the technology workforce and potentially enabling more diverse teams.
"We did a lot to deconstruct the pipeline myth," West said. "When these folks actually do successfully raise funds, these ethnically diverse teams, they financially return more capital, specifically in the startup space."
Kauffman examined deals from 2001 to 2018. It analyzed the profile images of more than 260,000 startup founders and executives in the U.S. at more than 20,000 companies from researcher Crunchbase, using publicly available demographic models created by Clarifai.