Trouble in Bonds Hasn't Spread to Stocks
(Bloomberg) -- The recently diverging fortunes of bond and equity volatility may be closer to a tactical reversal -- despite surging price pressures making it clear to most investors that inflation doesn't seem very transitory and the Fed may have already fallen significantly behind the curve.
The 100-day Z-Score of the spread between bond volatility, as measured by the MOVE index, and equity volatility represented by the CBOE VIX broke above three standard deviations on Monday. Recently the MOVE has been trending higher while the VIX has declined. The S&P 500 notched up another all-time high Monday, suggesting that bond market volatility isn't spooking equity investors - at least not yet.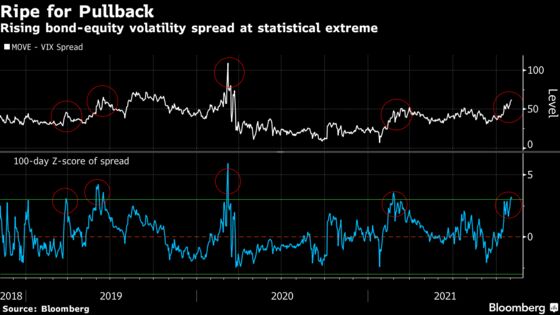 Historically, breaches of the three-standard deviation threshold have resulted in either a stall in the spread or a reversal, so the question is whether bond volatility starts to decline or equity volatility begins rising.
The Russell 2000 may offer some hints. The small-cap gauge is on the verge of making an all-time high and breaking out of an eight-month long consolidation. Unless this attempt to break out on the upside is a bull trap, the next leg up for stocks may just be around the corner, further dampening the VIX.
Whether equity investors' confidence permeates into that of bond market participants remains to be seen. But if it happens, it would mean bonds have already discounted that inflation globally is headed higher in the longer term. This reduced uncertainty should translate into a lower MOVE. The lower the MOVE, the more the spread should shrink, assuming equities continue to hold up.
NOTE: This was a post on Bloomberg's Markets Live blog. The observations are those of the blogger and not intended as investment advice. For more markets analysis, go to MLIV.