Dire Week for European Stocks Only Middle of Slump, SocGen Says
(Bloomberg) -- As battered investors ride out a week that's set to be the worst for European stocks since August 2011, strategists at Societe Generale SA have a sobering warning: the market is only halfway through the pull-back.
Analysts at the bank assessing the potential impact of the coronavirus outbreak on corporate earnings in the most-exposed sectors identified autos, oil, mining and luxury goods, SocGen strategists Alain Bokobza and Frank Benzimra wrote in a note. "With the Covid-19 virus spreading across borders and oceans, transportation and hotels & leisure could well top the list of sectors at risk," they added.
The Stoxx Europe 600 tumbled 4.2% on Thursday, entering a technical correction after falling more than 10% from its record high hit only a week ago.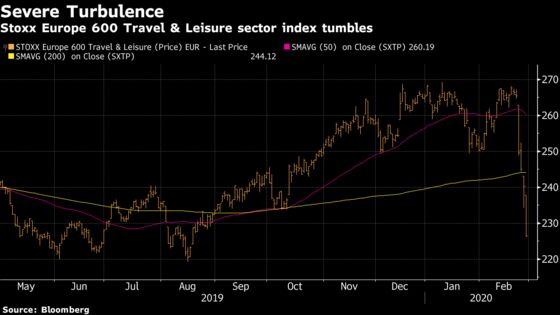 EasyJet Plc, TUI AG and Air France-KLM are all among Europe's worst performers over recent days, with the Stoxx Europe 600 travel and leisure sector index plunging 16% over the past week.
With the probability of a pandemic rising, stock markets in Europe and the U.S. look more vulnerable than in China, SocGen strategists said. "China is slowly getting back to work," they wrote.