Dip-Buying Index Funds Save Wall Street From the Tech Wreck
(Bloomberg) -- A breed of investor routinely blamed for intensifying volatility in the stock market may deserve a pat on the back this time for restoring some calm.
Passive exchange-traded funds have been buying this week's dip, arguably putting a floor under a tech-led selloff sparked by fears of accelerating inflation in the world's largest economy.
In the first four days of the week, U.S. equity ETFs lured almost $13 billion, according to data compiled by Bloomberg. More than $10 billion of that went to domestically focused products, even as the S&P 500 Index suffered its worst three-day rout in six months.
That ended on Thursday with a 1.2% jump, and the benchmark was about 1% higher again as of 10:38 a.m. in New York on Friday.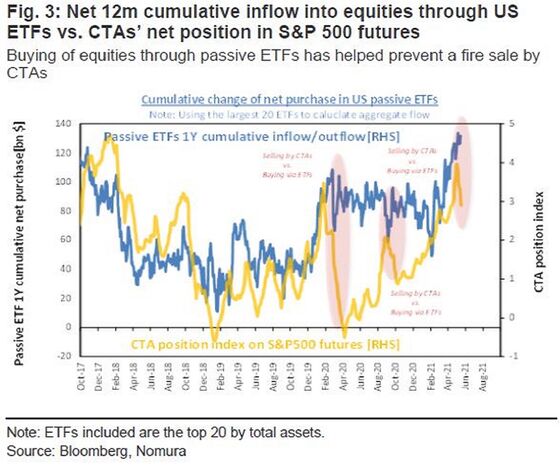 For Nomura's Masanari Takada, a slowdown in the performance of high-risk assets like cryptocurrencies and tech megacaps drove retail investor money out of these speculative corners. Some of that cash headed to the "relative safe haven" of index-tracking ETFs instead, he said.
"We are seeing the reappearance of a familiar pattern in which capital inflows through index-based ETFs (passive funds) give the market some support," the quant strategist wrote in a Friday note. "It is fair to say for now that equity market participants in general and speculative investors specifically have managed to avoid letting themselves get overly spooked."
For all this week's angst, the S&P 500 remains about 2% from its all-time high. A broad rotation from large growth stocks toward cheaper-looking shares less sensitive to rising inflation and interest rates has helped keep the benchmark elevated, even as stocks that helped drive the bull market start to lag.
Passive investors, together with retail traders, often shoulder the blame for exacerbating selloffs and mindlessly inflating bubbles in stocks and other assets. But for Takada, they've recently become less of a fickle wind than a stabilizing force.
Since last year, panic selling by other investors "has regularly been countered by U.S. individual investors softening the risk-off blow by pouring money into index-based ETFs upon noticing the dip," the strategist wrote.