Diebold Dives on Earnings Mess to End Grim Quarter for ATM Firms
(Bloomberg) -- It's been a rough year for ATM makers, and recent earnings reports offered no respite.
Shares of Diebold Nixdorf Inc. plunged as much as 36 percent on Wednesday, the most intraday since 2010, after the company posted an unexpected second-quarter loss, slashed annual guidance, and said it's talking to lenders about amending its credit agreement as a result. This comes less than a week after peer NCR Corp. also lowered its forecasts.
"The company's bottom-line results were clearly disappointing as we experienced higher service and delivery costs during the quarter," Chief Executive Officer Gerrard Schmid said in a statement after his second quarter at the helm of the North Canton, Ohio-based firm. "We are focused on several actions to simplify our operations and rationalize our cost structure."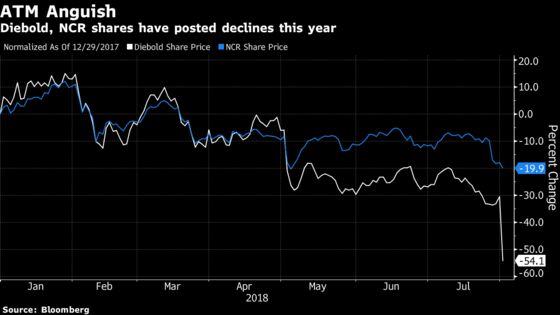 Diebold has lost over half of its market value this year, more than double the decline in shares of competitor NCR, which dropped 8 percent on Friday after the company reported a 21 percent decrease in ATM revenue and cut annual forecasts in the second quarter under its new CEO.
"The execution challenges surrounding product introductions, including supply chain constraints, is negatively impacting our revenue and costs versus our previous expectations," Atlanta-based NCR said in a press release, warning investors that it expects higher expenses in the third quarter. "In addition to foreign currency, we have experienced softness in our Hardware revenue and to a lesser extent in our Software business."
Both companies have recently announced plans to streamline their businesses. NCR said on May 1 that it expects a charge of up to $250 million as it restructures its hardware segment. The next day, Diebold reported a surprise loss and said it would suspend its dividend and simplify operations.
"While we had anticipated a possible reduction to the outlook, we believe the stock may come under pressure given the covenant risk and higher than expected costs," Credit Suisse analyst Paul Condra wrote Wednesday in a note to clients about Diebold's latest earnings disappointment.