China Property Stocks Sink, $4.2 Billion Rush: Evergrande Update
(Bloomberg) -- China Evergrande Group shares fell in Hong Kong Thursday, after the firm planned to sell its stake in HengTen Networks Group Ltd. at a hefty loss, while S&P Global Ratings said a default by the developer is highly likely.
Chinese property stocks fell as Evergrande agreed to dispose of a Hong Kong-listed business for the first time since its liquidity crisis began, while HengTen rallied. The deal, along with Country Garden Services Holdings Co.'s second share placement in six months, and onshore bond sales by two state-run developers, indicate firms' fundraising efforts -- totaling at least $4.2 billion over the past week -- to alleviate a liquidity squeeze.
Evergrande faces much a larger dollar bond repayment in March and April, S&P wrote in a report, saying the firm has "lost the capacity to sell new homes, which means its main business model is effectively defunct." 
Still, some traders are asking whether China's crackdown on the sector is reaching a turning point. Goldman Sachs Asset Management, Oaktree Capital Group and one of Asia's oldest hedge funds have begun fishing for opportunity. Predictions of a U.S.- or Japan-style property crash in China "will be proved wrong," wrote Barclays Plc analysts.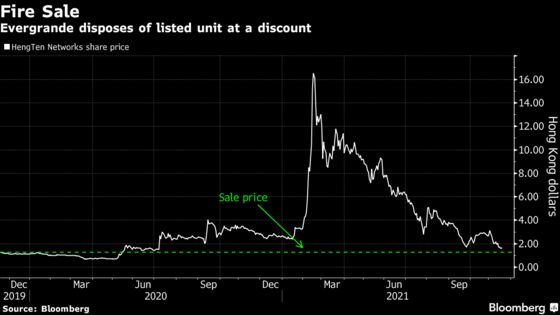 Evergrande Highly Likely to Default as Debt Pressure Builds: S&P
China's Housing Market to Contract But Not Crash, Barclays Says
Agile to Raise $310.7m From Exchangeable Bond Sale
One of Asia's Oldest Hedge Funds Buys Distressed China Debt 
Shinsun Operations 'Normal' and No Default On Debt, Says Board
Developer Shares Slide (4:15 p.m. HK)
Evergrande shares slipped more than 5%, as did shares of unit China Evergrande New Energy Vehicle Group Ltd. Country Garden Holdings Co., China's biggest builder, fell 5.1%. A-Living Smart City Services Co. closed down 13%, the lowest level since October 2019. 
China's speculative-grade dollar bonds rose as much as 2 cents Thursday, according to traders. Panic has eased in the market in the past week, with yields dropping to about 20% from nearly 25%. 
Postponed Bond Sale (3:56 p.m. HK)
State-run Bright Real Estate Group Co. on Thursday postponed a 580 million yuan ($90.8 million) bond sale to Friday. The statement came less than an hour after the developer said it had pulled the deal due to market volatility. 
The Bubble Won't Burst, Says Barclays (2:30 p.m. HK)
While Beijing is serious about reining in soaring property prices, its aim isn't to kill the market, wrote Barclays analysts including Jian Chang in a note dated Thursday. Authorities have sufficient tools to manage a contraction and prevent a disorderly crash, according to the analysts.
About $2.4 Billion in 24 Hours (1:10 p.m. HK)
The scramble for cash by Chinese property companies is intensifying. Firms announced plans to raise $2.4 billion in just the past 24 hours, taking the total over the last week to at least $4.2 billion, according to Bloomberg calculations.
Kaisa to Sell Land, HK01 Says (10:49 a.m. HK)
Kaisa Group Holdings Ltd., whose shares remain suspended in Hong Kong, will sell a residential land lot in the city to billionaire Francis Choi Chee-ming, HK01 reported. Kaisa was the first Chinese developer to default on dollar bonds back in 2015. Three of its units resumed trading on Tuesday after saying liquidity issues faced by the parent company wouldn't have a material impact on their operations.
Country Garden Services Halted (8:48 a.m. HK)
Country Garden Services halted trading in Hong Kong pending a release related to the placing of new shares, according to Hong Kong stock exchange filing. The company plans to sell the stock at HK$53.35 apiece, according to terms obtained by Bloomberg.
The company in May raised $2 billion issuing new shares and convertible bonds.
Yuan Bonds Sold (8:42 a.m. HK)
State-backed Poly Developments and Holdings Group Co. sold 2 billion yuan of 5-year bonds at 3.55%, according to a statement on Chinamoney.com.cn, the website of the National Interbank Funding Center. Merchants Shekou Industrial Zone Holdings Co. sold 3 billion yuan of 270-day bonds at 2.84%, a separate filing showed Wednesday.
HengTen Stake Sale (8 a.m. HK)
Evergrande will sell its 18% stake in HengTen to Allied Resources Investment Holdings Ltd. at HK$1.28 apiece, according to a Hong Kong exchange filing. Evergrande will raise about $273 million from the sale, and said it expects to incur a loss of HK$8.5 billion ($1.1 billion). 
The buyer, Hong Kong-based Allied Resources, is controlled by Li Shao Yu. 
Agile Sells $310 Million in Exchangeable Bonds (7:46 a.m. HK)
Property developer Agile Group Holdings Ltd. agreed to sell HK$2.42 billion of five-year exchangeable bonds, according to terms of the deal filed to the Hong Kong stock exchange.
The bonds are exchangeable into ordinary shares of property management unit A-Living Smart City at an initial exchange price of HK$27.48 apiece. The price represents a 20% premium to A-Living's last close in Hong Kong.
A look at Evergrande's maturity schedule:
Dollar bonds
Coupon due date
Grace period ends

Amount 

(million dollars)

TIANHL 13% due 2022
Nov. 6
Dec. 6
41.93
TIANHL 13.75% due 2023
Nov. 6
Dec. 6
40.56
EVERRE 7.5% due 2023
Dec. 28
Jan. 27 
50.43
EVERRE 8.75% due 2025
Dec. 28
Jan. 27 
204.77