Deutsche Boerse Resolves Second Major Trading Outage of 2020
(Bloomberg) -- Deutsche Boerse AG's electronic trading system was unavailable due to a technical glitch throughout Wednesday morning, the exchange's second major outage this year, disrupting derivatives and stock markets in several central and eastern European countries and hampering bond sales in the region.
Germany's benchmark DAX Index turned negative as trading in cash equities gradually resumed at noon in Frankfurt. Derivatives including bund futures had resumed trading on the Eurex platform 30 minutes earlier, after their hours-long halt had prompted Denmark to postpone a bond auction.
In the course of the afternoon, exchanges in Vienna, Prague, Budapest, Zagreb and Ljubljana -- all sharing Deutsche Boerse's T7 trading system -- also returned to normal operations. In mid-June, Austrian exchange operator Vienna Borse said it had extended its technology partnership with Deutsche Boerse for five years.
The previous shutdown of the system, in mid-April, hobbled trading across the same set of central and eastern European markets. Both outages were caused by faulty software from a third party, which has been repaired and continues to be part of the trading system, a spokesman for the exchange told Bloomberg.
"The disruption in the T7 system in April and today's failure had the same origin. They were due to faulty third-party software that is part of the trading system. We now understand the exact cause and have eliminated the issue. The system is now running stably and we expect it to remain so. External causes can be ruled out."

-- Deutsche Boerse spokesman Patrick Kalbhenn
"It's very rare for the market to be out for so long, but I'm glad it happened today, when we don't have any major data or corporate news and not last week when Wirecard news hit the stock," said Guillermo Hernandez Sampere, head of trading at asset manager MPPM EK in Eppstein, Germany. "The majority of trading now happens during the closing auction anyways, so the volumes can still catch up."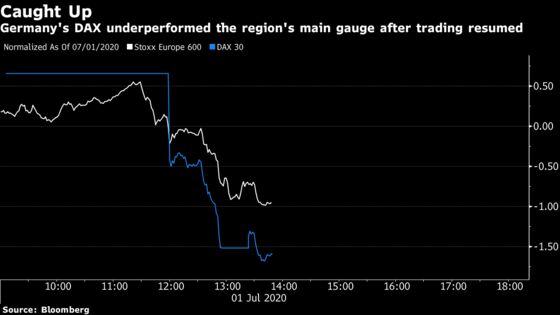 While this isn't Deutsche Boerse's first glitch in 2020, the exchange operator has had a relatively low failure rate in recent years, M.M. Warburg & Co. analyst Andreas Plaesier told Bloomberg, noting that its trading venues held up well during periods of extreme volatility in March and April.