Deutsche Boerse Gives Timing Details for $15 Billion ETF Market
(Bloomberg) -- Deutsche Boerse AG is to publish more information on the best time of day to buy an exchange-traded fund to enable clients to potentially reduce their dealing costs.
From today, the Frankfurt exchange will publish information on liquidity to show when an ETF might offer the most attractive spread between the bid and asking price. Trading at the right time can make a big difference to overall transaction expenses for investors.
About 13 billion euros ($14.7 billion) in ETFs are traded on by the exchange on average each month, making it the biggest for this asset class in Europe. Deutsche Boerse may introduce the new liquidity measure for other assets like cash equities, according to Stephan Kraus, responsible for its XTF segment.
"The need for more detailed information about trade timing with regards to achieving preferably cheap cost is a frequent request from clients and the new data shows that investors can save up to 30 percent in those costs if they pick the right time to place their order," Kraus said by phone.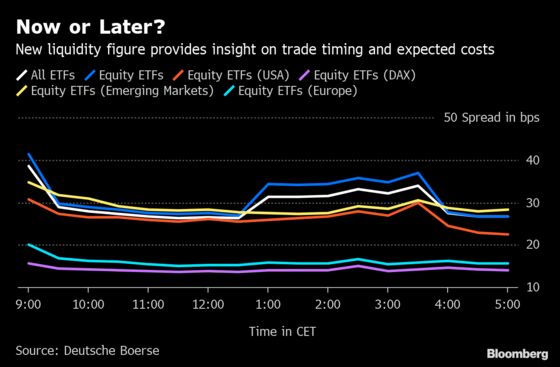 The so-called Intraday Xetra Liquidity Measure is calculated for about 1,400 ETFs on the Frankfurt exchange's XTF platform and provides clients with an historical average spread for 30-minute time frames between 9 a.m. and 17:30 p.m.