Deutsche Bank Says a Stock 'Overweight' Needs Rates OK First
(Bloomberg) -- Sovereign bond yields hold the key to increased confidence in U.S. stocks, according to Deutsche Bank AG.
Credit spreads are pricing in an ISM Manufacturing PMI in the low 50s -- solidly in expansion territory -- while the S&P 500 sees it in the mid-40s -- or, not far from the dividing line -- according to analysis from Deutsche Bank strategists led by Binky Chadha.
That's a big difference from Treasuries, where 10-year yields are consistent with an ISM below 40 -- suggesting decided economic weakness. The Deutsche Bank team wants an improved outlook in the rates market before it boosts its equity allocation.
"A necessary condition for going overweight, especially in cyclical sectors, factors and styles, is a turn higher in rates, which in turn will require a turn up in the data which is yet to materialize," Chadha wrote of equities in the note Thursday. The good thing is Chadha sees that data upturn "drawing closer."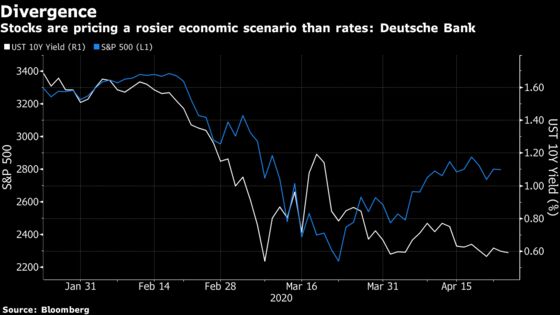 Chadha's team moved to neutral, from underweight, on stocks on March 25 "but did not turn overweight as the cyclical outlook still depended on that for the virus and government policy."
Though credit and equities have recovered more strongly at the index level, the composition of the rallies within sectors and companies have actually been somewhat defensive and closely aligned with rates, the Deutsche Bank strategists said.
Defensive industries and technology have outperformed, just as they did in the risk-off move, they wrote. Value stocks and smaller firms have continued to underperform. Credit spreads in defensive sectors widened the least during the sell-off but have tightened the most, they added.
The S&P 500 is up about 25% from its March 23 closing low, gaining 0.1% as of 10:15 a.m. Thursday in New York to 2,800.39. The 10-year Treasury yield sits at 0.61%, not far above its March 9 closing low of 0.54%.