Deutsche Bank Is Best Performer in DAX. Analysts Don't Buy It
(Bloomberg) -- Deutsche Bank AG may be one of the best-performing stocks among European lenders this year, yet analysts are still bearish on the shares, with 19 sell ratings and not a single buy recommendation, while the average price target signals 29% downside to the stock.
Germany's biggest lender has advanced 26% this year, leading the nation's DAX Index. The shares are up 79% since the coronavirus pandemic selloff in March as investors covered short positions amid signs that efforts to turn the company around are bearing fruit. The bank said Tuesday that it expects its second-quarter earnings to be "slightly" above average consensus estimates.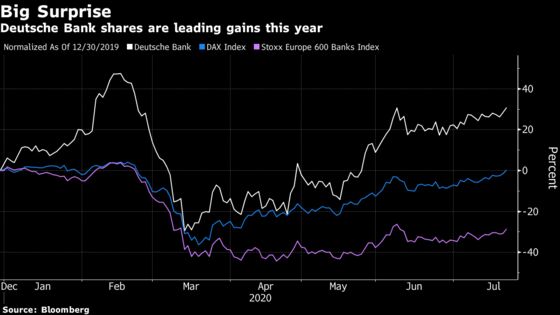 Confidence in the Frankfurt-based bank among analysts has eroded after years of over-promising and under-delivering, with headlines on management changes, office raids and regulatory fines.
Once a major force in the DAX, the stock is now only ranked 24th in terms of market value. That also means that on a day like Tuesday, where the index just turned positive for the year, the impact of Deutsche Bank is insignificant: just five points out of the gauge's 220 points total gain can be attributed to the lender.
Investors seeking further proof that this year's stock performance isn't a dead-cat bounce will focus on the lender's second-quarter earnings announcement on July 29.