Derivatives Traders Turn Most Bearish on Europe Inc. in a Decade
(Bloomberg) -- Investors have turned the most bearish on euro-area blue chips in more than decade -- and the change has been swift.
A gauge of three-month Euro Stoxx 50 index options prices on Thursday showed the relative cost of downside protection has spiked to the highest since 2008. By contrast, a similar measure for U.S. companies in the Dow Jones Industrial Average is not even testing its September 2019 high.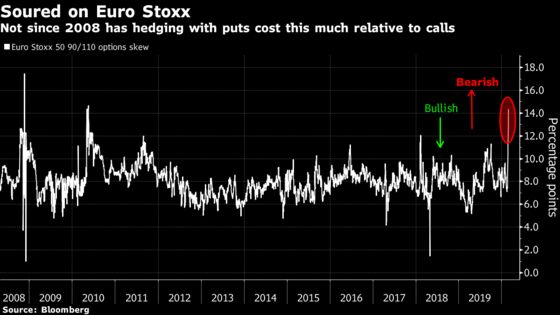 The potential toll of coronavirus in human and economic terms has been blamed for the equity sell-off, though investors look at many other gauges to judge sentiment -- from volatility to broad market measures of liquidity, sometimes called financial conditions.
One measure of financial stress in the euro zone derived from signals in the bond, equity and money markets tumbled this past week.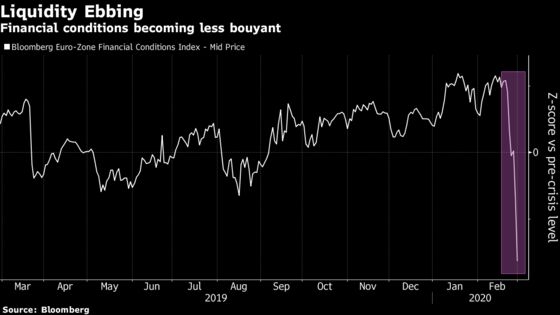 The course and cost of the novel virus won't be known for months, making estimates of its market impact even more difficult. The simultaneous sell-off in global equity markets so far has been much sharper than the average of 24 measured since World War II, Goldman Sachs strategists led by Christian Mueller-Glissmann wrote in a report this week. Drops of 10%-20% usually stretch out over four months on average, they found. The Stoxx Europe 600 Index is headed for a 12% drop this week.
"While European equities have suffered the most, they continue to be the most at risk from an escalation of the virus spread from Italy," Mueller-Glissmann said. "On the flip side, buying the dip via call options appears increasingly attractive."