Dell's Financial Merry-Go-Round Spins Again
(Bloomberg Opinion) -- Dell Technologies Inc. is choosing the path of least resistance.
On Monday, the corporate computing giant announced steps to streamline its hodgepodge of technology companies. As a means of returning to the public market, Dell will buy out the DVMT tracking stock that's meant to reflect the value of VMware Inc., a virtualization software maker it gained control of via its $67 billion merger with EMC Corp. in 2016. The terms of this latest deal are predictably complicated, but the net of it is that owners of the tracking stock can exchange their holdings for stock in a public Dell entity or $109-a-share in cash. The cash component will be funded via an $11 billion special dividend from VMware, which will maintain its existing publicly traded stub.
As convoluted as this all sounds, the transaction actually does help simplify Dell's messy capital structure. This was a necessary step, albeit made so by complexity Dell created itself so it could afford the buyout of EMC. Dell is juggling a massive debt load from that transaction and its 2013 buyout by founder Michael Dell and private equity firm Silver Lake, so a certain degree of creativity was needed in this latest stop on the financial engineering merry-go-round. Dell, which had to battle activist investor Carl Icahn over its buyout, also seemed at pains to make all its various stakeholders happy this go around.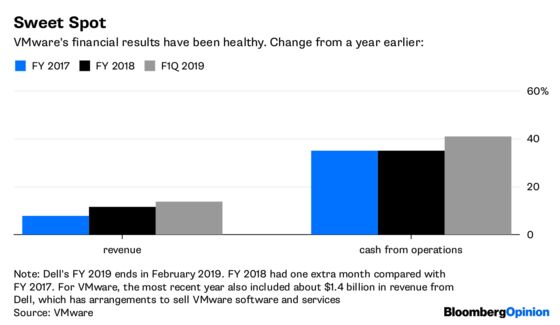 That's most notable in the fate of VMware, which will remain publicly traded and independent for now — or at least as independent as it can be with a large majority shareholder. Dell had been considering a combination with VMware in addition to a consolidation of the tracking stock, a move that would have seen all of its disparate technology interests consolidated under one stock. But some VMware investors were vocally against such a transaction, arguing that the resulting company would be a monstrosity that grew at a much slower pace, with VMware more limited from inking partnerships with Dell competitors.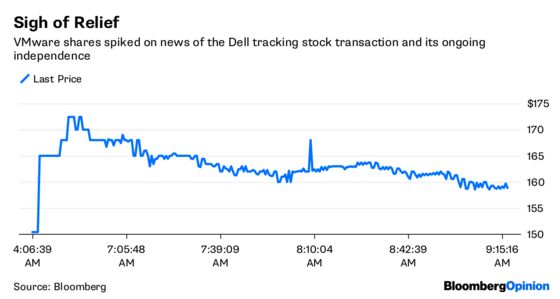 Dell seems to have listened. In addition to allowing a piece of VMware to remain publicly traded, Dell agreed to a governance agreement that insures a continuation of independent oversight at its software stepchild. Judging by Monday's stock reaction, VMware shareholders are thrilled with this arrangement. Icahn, who revealed a "sizable position" in VMware and the tracking stock earlier this year, has yet to comment. 
But while this structure gives VMware shareholders what they said they want, this isn't necessarily the best outcome. The $109-per-share value Dell is assigning to the tracking stock is a discount to what the normal VMware stock costs. Recall that DVMT is meant to mirror VMware, so the two should in theory have the same price. The fact that they don't is arguably found money for Dell. That extra cushion could have been used by Dell to justify buying out minority VMware holders at a premium as well.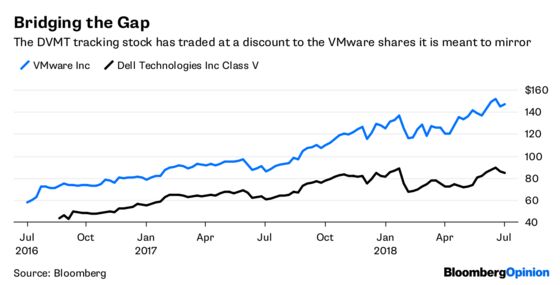 Instead, VMware will continue on with a large majority shareholder and the discount that normally entails, while the possibility of an eventual buyout and all the uncertainty that comes with that still looms large. Those VMware investors that bristled at the idea of becoming part of Dell seem to be forgetting that the company for all intents and purposes is part of Dell, with or without a merger. 
Dell, meanwhile, will still get to benefit from VMware's growth. The downside for the company is this tracking-stock transaction does little to tackle its hefty debt load, or the strains resulting from the recent tax code overhaul. Those changes limit the company's ability to deduct billions of dollars in annual interest costs on its borrowings, and compel Dell to pay a federal tax on overseas profits that previously had been untaxed.
Dell also must now prove that it can thrive as a public company. It didn't before, which is why Michael Dell wanted to take his company private in the first place. If anything, investor sentiment has soured even more on corporate information-technology supermarkets like Dell and (to a lesser extent) Hewlett Packard Enterprise Co.
VMware is Dell's best asset given those market conditions. The transaction the company fashioned smartly acknowledges that reality, but still leaves many challenges. In that respect, it's hard not to view Monday's announcement as creating yet another intermediate Dell structure that's ultimately not going to be sustainable.