Dell's Buyout Math Doesn't Quite Compute
(Bloomberg Opinion) -- Dell Technologies Inc. seems to be taking a Donald Trump-like approach to determining its self-worth: bold statements, and not a lot of information to back them up.
This month, the computer and software giant announced a complicated plan to re-enter the public market about five years after its buyout by founder Michael Dell and Silver Lake. Dell is saddled with a boatload of debt and a messy capital structure, making a traditional IPO difficult. So instead, it will purchase the public tracking stock that it created to help finance its $67 billion buyout of EMC Corp. in 2016.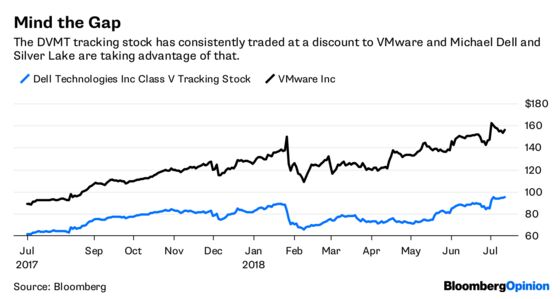 The DVMT tracking shares are meant to mirror the value of VMware Inc., a publicly traded entity in which Dell holds a stake via the EMC purchase (VMware's stock will continue to trade after the DVMT buyout). But while VMware shares were valued at about $147 apiece the day before this latest transaction was announced, Dell sized its cash-and-stock bid for the DVMT tracking stock at $109. The 26 percent discount essentially represents $7.5 billion of found money that's accruing to Dell and Silver Lake, rather than DVMT shareholders.
That's a slap in the face on its own, but it gets worse because that $109 headline price exists for now only on Dell's spreadsheets. While the cash portion of the DVMT bid is straightforward enough, that accounts for about 42 percent of the total purported consideration. The rest comes from DVMT holders exchanging each of their shares for 1.3665 shares of Dell class C common stock. That becomes an exercise in assumptions and attitudes.
The exchange ratio and $109 headline price imply the Dell class C shares will be valued at about $80 apiece. Dell says the valuation is "illustrative" and it makes no assurances about the stock reaching that level. But even as an example, it's curious. Dell's board had to estimate the fair value of class C common shares to calculate an accelerated vesting of a stock award for David Goulden, the former president of Dell's infrastructure solutions group who terminated his employment in February. The number the Dell board came up with and cited in its May proxy filing was $33.17. That is a long way from $80 and would imply a 140 percent spike over a relatively short period of time.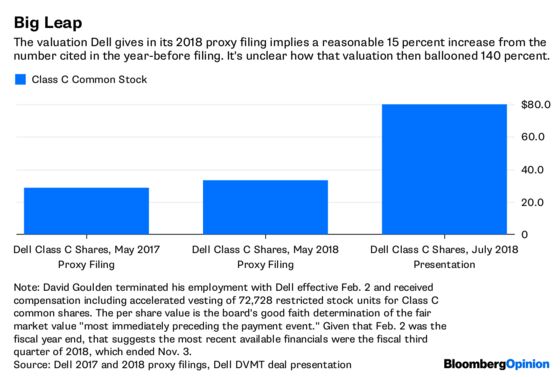 I am willing to be convinced that Michael Dell and Silver Lake have managed to make this company better. Dell reported a 17 percent increase in adjusted revenue including VMware for the first quarter of its fiscal 2019, so things are improving. The earnings and cash-flow multiples implied by Dell's chosen valuation aren't outrageous. But in the absence of more information, such a significant jump raises a lot of questions. To my knowledge, Dell hasn't discovered some miracle medical treatment or somehow become Netflix Inc. 
DVMT shareholders, certainly, aren't convinced by Dell's math. DVMT is currently trading at about $95, well below Dell's purported $109 bid. Another useful way of looking at this is to plug DVMT's current share price into Dell's "illustrative" calculations for its own equity value. Doing so suggests that after backing out Dell's stakes in public companies such as VMware, the market thinks what's left over —  the core Dell business —  is worth only about $1 billion. Dell's numbers had suggested an equity value of $17.5 billion. The point is the market doesn't have nearly as high an opinion of Dell as the company has of itself, and the market's opinion is the one that matters.
Some discount to VMware is likely justified, but it's worth noting that in its fairness opinion on the Dell-EMC deal that created the DVMT tracking stock, Evercore Group considered a 0 percent to 10 percent discount to VMware's unaffected 2015 share price an "appropriate illustrative" range for the EMC board to contemplate. Evercore is now serving as a financial advisor to the Dell special committee that's supposed to advocate for the interests of DVMT holders and has blessed this latest proposed deal as the best route. Fairness opinions are by nature more of an art than a science, especially when it comes to rare instruments like tracking stocks, and market conditions have evolved in the intervening years. Even so, it's a bit awkward. That's another shift in perspective that at the very least needs to be better explained. If DVMT was valued at only a 10 percent discount to VMware's pre-deal price, then the implied value would be more than $130. 
The question now is what are DVMT investors going to do about it. They do have a say: the transaction is subject to approval by a majority of unaffiliated shareholders. Pushing back and seeking a more favorable exchange ratio has its risks. Dell has the power to walk away and instead do a more traditional IPO, which would trigger a right to convert DVMT shares into what would then be publicly traded class C shares under certain terms. Depending on what you think Dell is worth, that could be preferable to the current offer, or it could be worse. But there are also downsides to this strategy for Dell, as discussed above. That may embolden shareholders. 
Brooke Sutherland is a Bloomberg Opinion columnist covering deals and industrial companies. She previously wrote an M&A column for Bloomberg News.