Defensive Sectors Are Getting Back in Vogue
(Bloomberg) -- Trade tensions are definitely back on radar screens. A 4% selloff in European stocks since late April doesn't look too dramatic, but the fact that the market had pretty much priced in a U.S.-China deal means potentially more damage to come, as the U.S. hiked tariffs on more than $200 billion in goods from China on Friday. The case for rotation into defensives is gaining ground.
Sectors such as real estate, food & beverage and health care have been outperforming this month, while trade-sensitive industries such as autos and miners have been hammered.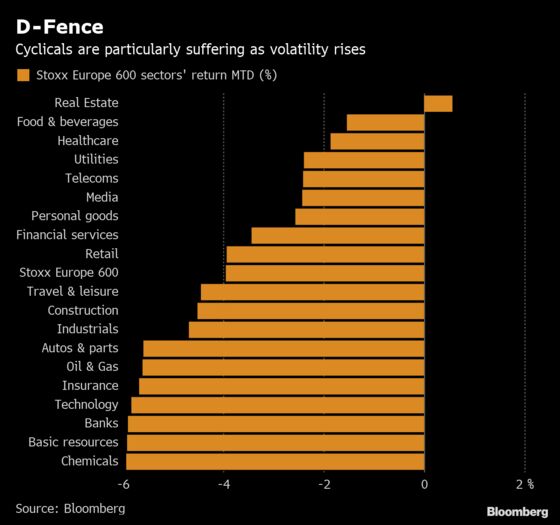 For UBS equity strategists, autos and other cyclical sectors with high emerging-market sales are the most vulnerable, along with banks as expectations for rate hikes fade. Companies in mainland Europe have a high exposure to trade wars, as 52% of sales are realized abroad, according to UBS.
Warning signs were mounting before Trump's recent tweets. The market was pricing better times ahead and a quick resolution of trade issues, while ignoring uninspiring macro data, at least in Europe. Market breadth looks worrying for European stocks, with a high proportion of sell signals -- something that regularly indicated further weakness.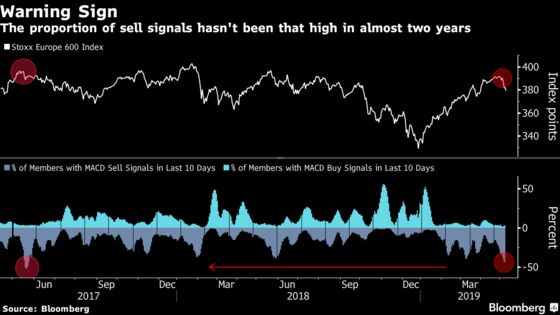 "At current levels, the European equity market is already pricing in the Eurozone Manufacturing PMI back at 55," according to Societe Generale strategists including Roland Kaloyan. In a market recently driven by fear-of-missing-out sentiment, SocGen sees an opportunity to boost exposure to defensives.
It recommends sectors with high earning visibility and a low beta, such as staples and pharmaceuticals, which would reduce the impact of erratic moves on portfolios.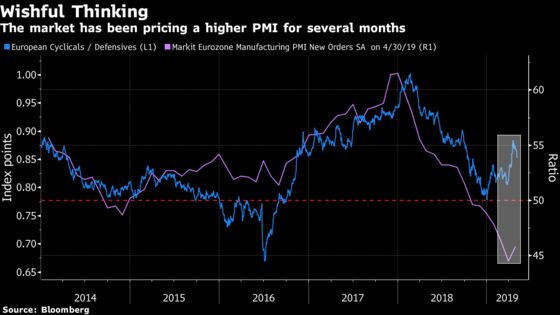 For Deutsche Bank strategists, equities have run ahead of macro data, and their models suggest the market is likely to move sideways over the next few months. They agree that defensives and "bond-like sectors" will likely outperform cyclicals in the near term, with pharma, real estate and consumer staples showing the most potential.
There's still hope investors could use the dip to add some equities in their portfolio, especially since earnings have not only been resilient, but are even growing. After about 75% of companies have reported results, beats continue to outpace misses at a 4:3 ratio, reversing last quarter's predominance of negative surprises, according to Bloomberg Intelligence strategists. Earnings per share growth is tracking at 4% compared with a 1% estimate, and isn't driven by the energy sector, in contrast with recent quarters.
In the meantime, Euro Stoxx 50 futures are trading 0.9% higher ahead of the open.
Watch trade-sensitive sectors after the U.S. slapped 25% tariffs on around $200 billion worth of Chinese goods today and China vowed to retaliate. Investors will now be hoping that the "beautiful letter" Trump received from Chinese President Xi Jinping will help get a deal done as talks continue in Washington.
Watch cybersecurity stocks after U.S. peers Symantec and ForeScout both tumbled after missing expectations. Watch Sophos, Avast, NCC Group and ECSC Group; large manufacturing groups including BAE Systems also provide cyber-security services.
Watch the pound and U.K. stocks as there is still no sign of any agreement forthcoming between the Conservatives and Labour on the U.K.'s departure from the European Union.
"It's simple: markets track dividends," Citi strategists write in a note. "Over the next two years, global equities will track dividends 13% higher if their close relationship holds and consensus dividend forecasts are right. Japan and the U.K. currently offer the best returns according to our simple dividend-driven model."
Telefonica 1Q Under. OIBDA Meets Est.; Reiterates Guidance
EssilorLuxottica Chair, Vice-Chair Seek to Resolve Dispute: FT
Kering Says Italy Tax Settlement Total Required Payment EU1.25b
Natixis Trading Slump Drags On With 34% Fixed-Income Plunge
Anheuser-Busch InBev Asia Pacific Unit Files for H.K. IPO
LafargeHolcim to Sell Stake in Holcim Philippines to San Miguel
Deutsche Post First Quarter Revenue EU15.35B as Profit Jumps
Air France-KLM April Passenger Traffic Rose 9.2%
Cevian Says There Is No Doubt Ericsson Will Reach Its Targets
Acciona Confident on FY Guidance After Slow Ebitda-Level Start
Altice Europe Aims For Portugal Fiber Stake Sale By End of 2Q
France Won't Decide on ADP Privatization Pending Referendum: AFP
UnipolSai 1Q Net Gains 11%; 3-Year Cumulative Net Seen at EU2b
GEA Plans Restructuring; 1Q Revenue Matches Estimates
Aker 1Q Net Asset Value Per Share NOK757 Vs. NOK562 Q/q
Moncler First Quarter Revenue EU378.5 Mln
Tod's First Quarter Sales Miss Lowest Estimate
Bechtle First Quarter Revenue Beats Highest Estimate
NOTES FROM THE SELL SIDE:
Greek banks' stock prices have risen this year, with market pricing in faster asset quality resolution, but shares don't discount the divergence in balance sheet clean-up, Morgan Stanley says in a note. Broker cuts Alpha Bank and Piraeus to underweight, while Eurobank and National Bank of Greece are raised to overweight from equal-weight.
Moncler's 1Q revenue growth was roughly in line with expectations against a particularly difficult comparison base and a milder winter, according to analysts.
TECHNICAL OUTLOOK for Stoxx 600 index:
Resistance at 382.5 (50-DMA); 392.7 (July 2018 high)
Support at 374.5 (61.8% Fibo); 369.5 (200-DMA)
RSI: 30.2
TECHNICAL OUTLOOK for Euro Stoxx 50 index:
Resistance at 3,398 (50-DMA); 3,516 (76.4% Fibo)
Support at 3,309 (50% Fibo); 3,277 (200-DMA)
RSI: 34.2
MAIN RESEARCH AND RATING CHANGES:
UPGRADES:
EDP Renovaveis upgraded to buy at Goldman; PT 10.60 Euros
ETE GA raised to overweight at Morgan Stanley; PT 3.10 Euros
Eurobank raised to overweight at Morgan Stanley; PT 1 Euro
Michelin upgraded to buy at Goldman; PT 135 Euros
Salvatore Ferragamo raised to equal-weight at Morgan Stanley
Stabilus upgraded to hold at SocGen; PT 45 Euros
Talanx upgraded to buy at DZ Bank; PT 38 Euros
Aeroports de Paris cut to neutral at JPMorgan; PT 160 Euros
Alpha Bank cut to underweight at Morgan Stanley; PT 1.20 Euros
Auto Trader downgraded to neutral at Citi
Fielmann downgraded to sell at DZ Bank; PT 52 Euros
Immobiliare Grande cut to neutral at Mediobanca SpA
NNIT downgraded to hold at ABG; PT 165 Kroner
Piraeus Bank cut to underweight at Morgan Stanley; PT 1.30 Euros
Prosafe downgraded to hold at Kepler Cheuvreux; PT 20 Kroner
Trufin downgraded to neutral at Macquarie
Unibail downgraded to sell at Citi
Xing downgraded to sell at Berenberg
dormakaba downgraded to reduce at HSBC; PT 635 Francs
Alcon rated new outperform at Baird
Equita rated new buy at UBI Banca; PT 3.57 Euros
Maersk Drilling rated new equal-weight at Morgan Stanley
Verbund rated new outperform at MainFirst; PT 50 Euros
Zurich Ins. reinstated equal-weight at Morgan Stanley
MSCI Asia Pacific down 1.4%, Nikkei 225 down 0.2%
S&P 500 down 0.3%, Dow down 0.5%, Nasdaq down 0.4%
Euro up 0.1% at $1.1226
Dollar Index up 0.01% at 97.39
Yen up 0.02% at 109.72
Brent up 0.4% at $70.7/bbl, WTI up 0.5% to $62/bbl
LME 3m Copper up 0.9% at $6159/MT
Gold spot up 0.1% at $1285.8/oz
US 10Yr yield little changed at 2.44%
MAIN MACRO DATA (all times CET):
8:45am: (FR) 1Q P Wages QoQ, est. 0.3%, prior 0.2%
8:45am: (FR) 1Q P Private Sector Payrolls QoQ, est. 0.2%, prior 0.3%
8:45am: (FR) March Industrial Production MoM, est. -0.5%, prior 0.4%
8:45am: (FR) March Industrial Production YoY, est. -0.1%, prior 0.6%
8:45am: (FR) March Manufacturing Production MoM, prior 1.1%
8:45am: (FR) March Manufacturing Production YoY, prior 2.8%
10am: (IT) March Industrial Production MoM, est. -0.8%, prior 0.8%
10am: (IT) March Industrial Production WDA YoY, est. -0.8%, prior 0.9%
10am: (IT) March Industrial Production NSA YoY, prior 0.9%
10:30am: (UK) March GDP (MoM), est. 0.0%, prior 0.2%
10:30am: (UK) 1Q P GDP QoQ, est. 0.5%, prior 0.2%
10:30am: (UK) 1Q P GDP YoY, est. 1.8%, prior 1.4%
10:30am: (UK) 1Q P Private Consumption QoQ, est. 0.5%, prior 0.3%
10:30am: (UK) 1Q P Total Business Investment YoY, est. -2.7%, prior -2.5%
10:30am: (UK) March Industrial Production MoM, est. 0.1%, prior 0.6%
10:30am: (UK) March Industrial Production YoY, est. 0.5%, prior 0.1%
10:30am: (UK) March Manufacturing Production MoM, est. 0.0%, prior 0.9%
10:30am: (UK) March Manufacturing Production YoY, est. 1.1%, prior 0.6%
10:30am: (UK) March Visible Trade Balance GBP/Mn, est. £13.7b deficit, prior £14.1b deficit
10:30am: (UK) March Trade Balance Non EU GBP/Mn, est. £5.4b deficit, prior £5.84b deficit
10:30am: (UK) March Trade Balance, est. £4.6b deficit, prior £4.86b deficit
11am: (IT) March Retail Sales MoM, est. 0.1%, prior 0.1%
11am: (IT) March Retail Sales YoY, est. 1.0%, prior 0.9%