Deep-Sea Mining Robot Lost on Cobalt-Rich Floor of Pacific
(Bloomberg) -- A deep-sea mining robot on test mission to bring up rocks rich in cobalt and nickel from the floor of the Pacific Ocean has malfunctioned.
Controversial plans to mine the ocean floor face a key test this year when a United Nations body unveils rules that could spur the exploitation of hundreds of billions of dollars of battery metals. Environmentalists say that would endanger fragile marine ecosystems, while the industry argues that extracting metals needed for the green-energy transition would cause less damage than terrestrial mining.
Global Sea Mineral Resources, a unit of Belgium's DEME Group, brought up its first minerals from the ocean floor on April 20. It's one of the companies, including DeepGreen Metals Inc., Lockheed Martin Corp. and China Minmetals Corp., spearheading moves to exploit seabed metals needed by electric vehicles.
"Patania II now stands on the sea floor," GSR said in a statement on Wednesday, referring to the name of its mining device. Recovery operations will begin later today after a pump needed to lift the robot failed. The machine remains intact, the company said.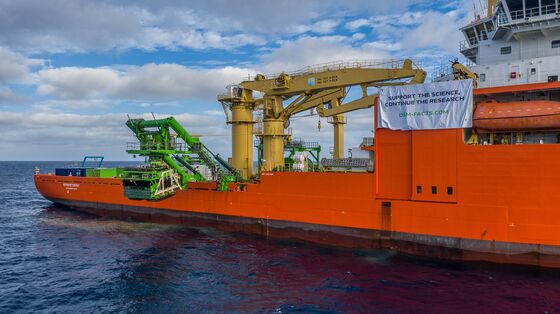 The GSR robot had been operating at a depth of 4.5 kilometers (2.8 miles) in the Clarion-Clipperton Zone: an expanse of ocean between Hawaii and Mexico that's as big as the continental U.S. Its seabed is littered with billions of tons of manganese nodules -- fist-sized rocks formed over thousands of years, which are filled with nickel and cobalt needed for lithium-ion batteries.
"This glaring operational failure must act as a stark warning that deep-sea mining is too big a risk," Greenpeace marine biologist Sandra Schoettner said in a statement. A Greenpeace ship has been monitoring GSR's activities in the Pacific Ocean.
The vessel carrying GSR's robot is host to some two dozen European scientific organizations looking at how deep-sea mining could impact life on the seabed. There is uncertainty over how sediment plumes kicked up by mining will spread, potentially changing ocean chemistry and harming fish.