Dealers Take the Short Route as U.S. Curve Steepens Before Sales
(Bloomberg) -- The next test for Treasuries is here: supply.
As the market reopened following the Columbus day holiday, bonds have been under pressure and the curve has been steepening. Auction concession is looking like the main driver Tuesday, with traders shrugging off the risk-off sentiment from an escalation in U.S.-China tensions and a blowup in Italian securities.
Dealers have the unenviable task of swallowing auctions for three- and 10-year bonds this Wednesday, and face a 30-year sale on Thursday, just as yields extend from last week's highs. Worse still, there is only $24 billion due in redemptions to offset the $74 billion in new supply.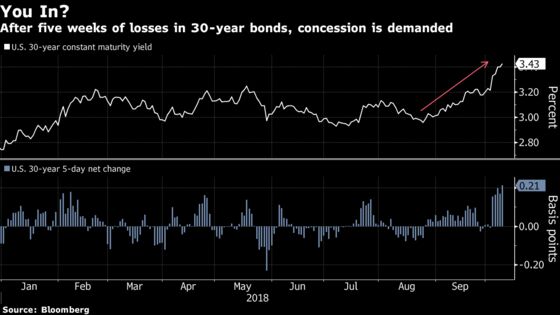 That probably means that while investors are busy making room for the new Treasuries, dealers are trying to build up short positions. That way, when they end up lumbered with the auction bonds, they won't be long.
In London trading, the 10-year yield rose as much as 2 basis points to 3.25 percent, while the 30-year bond saw an advance of as much as 4 basis points to 3.44 percent. The 5-, 30-year yield curve spread is hovering around the 200-day moving average.
There may be an opportunity for enterprising investors, however. An analysis of auctions so far this year shows that, on average, putting on a 5-year/30-year curve flattening trade two days ahead of a long-dated auction -- and unwinding at the end of the week -- has resulted in a net gain of two basis points.