S&P 500's 'Dead Cat Bounce' Finds More Life With Charts Heading Toward a Record
(Bloomberg) -- Just a few weeks ago, the consensus seemed to be that the post-Christmas rally was a dead-cat bounce that would lead the market back to its December lows.
Up in seven of the last eight weeks, the S&P 500 has barely looked back, and the voices of doom have gone all but mute. To the contrary: calls have gotten louder for the market to reclaim its record of 2,930 reached in September. At around 2,785, the index is about 5 percent away of doing just that.
Days after strategists at Bank of America pinned the hope on a trade deal between the U.S. and China, Tony Dwyer at Canaccord Genuity highlighted broadening market momentum as evidence in support of a sustained rally. At Friday's close, more than 90 percent of S&P 500 stocks traded above their average prices over the past 50 days, the most since early 2016.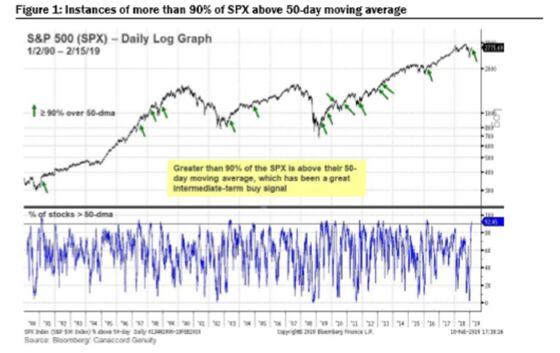 If history is of any guide, such broad participation has boded well for stocks. Out of 14 other similar instances that Canaccord identified since 1990, all but one were followed by higher prices three months later, with the S&P 500 rising 5.1 percent on average.
"We found another breadth thrust extreme that suggests the market should see new highs in 2019," Dwyer wrote in a note Tuesday. "Any pause in the upside should be temporary."
Stocks are staging one of the fastest recoveries after falling to the brink of a bear market in December amid growing concern over global growth and Federal Reserve monetary tightening. Dwyer attributed much of the turnaround to a shift in the central bank's tone as Fed Chair Jerome Powell showed more willingness to be patient before hiking rates.
Amid improving sentiment on Wall Street, real investors have been reluctant to chase the equity rally. Money has been pulled out of equity funds and even at those that have stay invested, exposure was kept low relative to history, all the reason to JPMorgan strategists why the market advance should last.
By one measure, the market has already regained the ground lost during the fourth quarter. So many stocks have risen over the past two months that a gauge known as the NYSE cumulative advance-decline line exceeded the Sept. 20 peak this month, reaching a fresh record.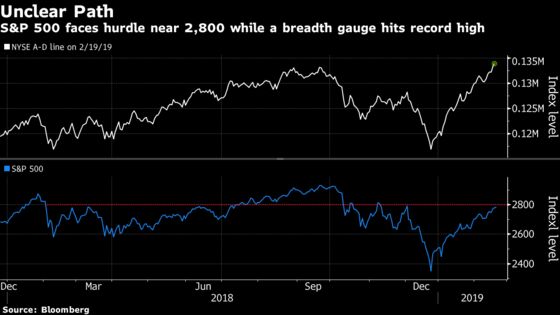 Of course, nobody actually knows what stocks will do. Momentum is gathering steam, with the S&P 500's 14-day relative strength index approaching 70 for the first time since August. A reading above that threshold is typically seen as a sign that stocks have risen too far, too fast.
A big barrier in the S&P 500 chart lies around 2,800, a level that has halted five rallies in the past year. The round number is close to a fair value should one apply the five-year average price-earnings ratio of 16.6 to the per-share profit of $168.2 estimated by analysts for 2019.
To John Kolovos, a strategist at Macro Risk Advisors, the 2,800 level represents "the Mother of All Resistance." But investors shouldn't be blindsided by the risk, he said.
"While the rulebook says to play it tight in anticipation of a setback, what is obvious is obviously wrong," Kolovos said. "We need to be open minded to a melt up scenario to 2900, which in our opinion would be a very painful pain trade."