Days May Be Numbered for U.K. Small Caps Beating Large Firms
(Bloomberg) -- Britain's smaller companies have outperformed their larger counterparts since the U.K. voted to leave the European Union, but that trend may be about to change.
While smaller British companies bounced back after the Brexit vote in 2016, they tend to be more focused on their home market. And that makes them more vulnerable to a potential downturn in overseas investment, according to Alexandre Tavazzi, chief strategist at Pictet Wealth Management, which manages about 204 billion Swiss francs ($203 billion).
"The question for now is whether foreigners will continue to invest in the U.K., not knowing what the end situation is going to be," Tavazzi said. "The very domestic companies may suffer more in that environment."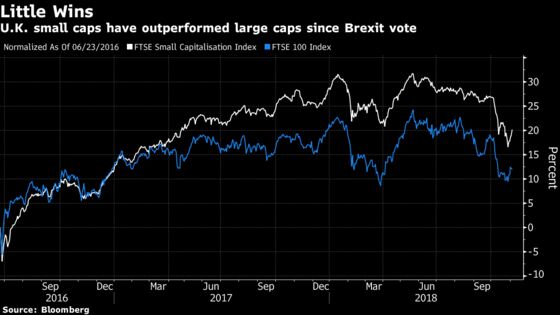 Tavazzi called U.K. small caps and mid caps less attractive than their peers in Europe and the U.S., due to the broader economic climate. "Growth is going to be not as good in the U.K. compared to other places, especially in the U.S., so we would prefer other places," he said.