Day After Day of Stock Pain Is Starting to Rival February's Plunge
(Bloomberg) -- You thought February was brutal? This sell-off is deeper. And going by the speed at which losses have recently been piling up, it's approaching the previous episode's velocity, too.
From an intraday high of 2,800.18 last Monday, the S&P 500 Index has been in a week-long swoon that at the lowest point this morning covered 217 points. The last time it slid as much over as many sessions was in February, when 228 points were zapped from Feb. 2 to Feb. 8.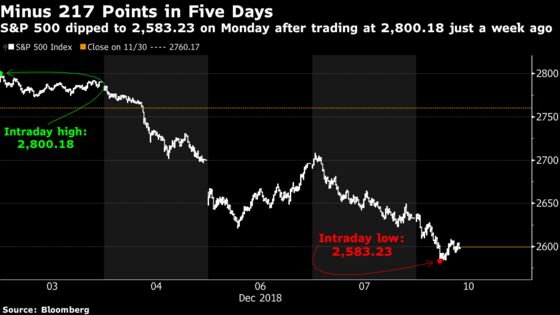 There hasn't been one single clear catalyst that pushed the S&P 500 down by 6 percent in four days. It's been a cocktail of concerns, everything from trade, the pace of rate hikes, a possible slowdown in economic growth and uncertainty in Europe.
"This is what a stock market correction looks like," said Michael Antonelli, managing director at Robert W. Baird & Co. "This one is a full blown market correction, the other one wasn't."