Danger Lurks for Dollar Bulls in Outcome of Trump-Xi Dinner
(Bloomberg) -- The eyes of the global currency market will be on Saturday's meeting between U.S. President Donald Trump and Chinese leader Xi Jinping, with some analysts seeing even a modicum of progress toward easing trade tensions as enough to sink the dollar.
Any sign that Trump will hold off on plans to ramp up U.S. tariffs on Chinese imports in January may alleviate pressure on emerging-market and commodity-linked currencies, undermining the greenback and haven trades like the yen.
The Bloomberg Dollar Spot Index is up just over 4 percent this year, partly on concern that a trade war would damage global growth prospects, taking an especially heavy toll on developing economies. Thursday's market movement offered a preview of how traders might react to a potential deal: The greenback fell briefly after Trump said he's "very close to doing something with China" on trade.
"One of the concerns all year has been really the impact of trade protectionism," said Jim McCormick, a NatWest Markets strategist in London. "When growth sentiment is getting hit, the dollar tends to go up, particularly versus EM and growth-related currencies. So it will probably, generally speaking, be a dollar-negative if you see a little bit of progress in the meeting."
Trump is set to meet China's president on the sidelines of the Group-of-20 summit in Argentina. U.S. and Chinese officials have been working on the contours of a possible deal to be announced following the meeting and a road map for talks to follow, according to people familiar with the discussions.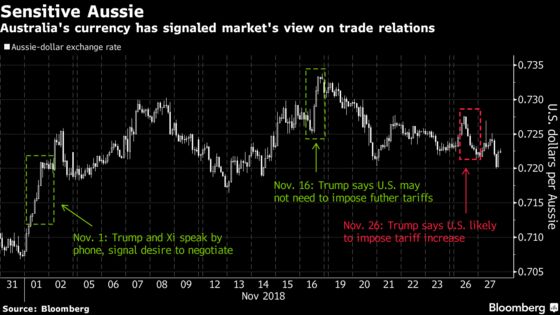 One way to gauge the market's take on the outcome will be to monitor the Australian dollar once trading begins Monday morning in Asia. Given the close ties between the Australian and Chinese economies, the Aussie is "ground zero for Trump-Xi and trade," said Brad Bechtel, head of foreign-exchange at Jefferies LLC.
If the tone between the two sides seems to have brightened, the Aussie, which isn't far above the more than two-year low it set last month, is worth getting excited about, said McCormick at NatWest. Investors are looking for reassurance, in the form of progress at the meeting, given global growth concerns, falling commodities and struggling equities.
The first official gauge of China's economy in November, published Friday, showed manufacturing activity continued to worsen. While in the U.S., the Department of Agriculture cut its quarterly farm export forecast by $3 billion from its August projection to $141.5 billion for fiscal 2019.
Shahab Jalinoos and other Credit Suisse strategists said options markets indicate that some traders are already positioned for progress on trade this weekend. For example, one-week risk reversals on the dollar versus the offshore yuan suggest traders are favoring yuan calls.
The most "auspicious realistic outcome" from the bilateral repast would be to freeze at their current 10 percent rate tariffs in place on $200 billion of Chinese goods, the strategists wrote in a report.
Trump said this week that he'll likely push forward with a plan to boost those tariffs to 25 percent and is willing to also slap duties on all remaining imports from China if negotiations don't produce a deal.
With so much at stake, there's plenty of anxiety in the FX market.
"People are trying to not position into this, because it's so unpredictable," said Paul Lambert, head of currency and portfolio management at Insight Investment in London.
And it's not safe to assume that a breakdown in talks will buoy the U.S. dollar, according to Lambert. A ratcheting up of tensions could benefit traditional haven currencies like the yen and Swiss franc instead, he said.
"The next round of tariffs will be a little bit harder for the U.S. consumer to dodge," he said. In that case, the market would start to question whether "this is now just bad for everybody instead of less bad for the U.S. and worse for its trading partners."