FX Traders Hunting for Certainty Pile Into Bets on Volatility
(Bloomberg) -- When in doubt, buy volatility.
The old adage is holding strong, even as traders struggle to identify which currencies might offer the best shelter in times of upheaval. Bets that there will be price swings may look appealing, in particular as implied volatility in foreign-exchange hasn't reacted with quite the same violence this week as similar measures for stock and bond markets.
While Monday's increase in option-implied currency volatility as measured by a JPMorgan Chase & Co. index was the third biggest of 2020, similar gauges of turbulence for U.S. shares and interest rates surged by the most in years. The Cboe Volatility Index, often labeled Wall Street's fear gauge, posted its biggest jump since February 2018. And the ICE BofA MOVE Index of Treasury volatility climbed more than on any day since 2015.
"The actual impact of the virus on macro economies is much harder to gauge right now than pricing the impacts on specific industries in equities, or pricing in the reactions of different central banks," said Monex Europe FX analyst Simon Harvey. He sees volatility rising this year as the virus impact shakes out, but reckons daily shifts are likely to lag behind equities and rates.
Investors have sought ways to factor in the coronavirus outbreak and growing risks of a technical recession in Italy and Japan. New doubts over traditional correlations between market havens and risk appetite have encouraged investors to take cover through options trades.
These help even when assets known for their safety, such as the yen, defy their reputations by falling during wider moves away from risk. Similarly, the dollar has recently bucked established trends in its relationship with U.S. Treasuries at times, by rising when yields on the bonds fall.
These unusual patterns may prove fleeting, but while they are occurring, traders are embracing the rising tide of higher volatility in the currency market.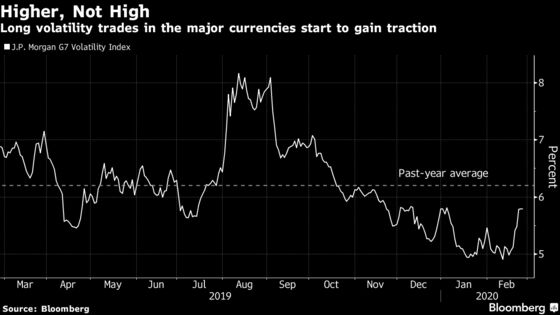 The cost of hedging the euro over a one-week period has reached its highest in four months, while buying volatility on the one-year tenor costs the most since early October. As questions swirl about what risk-off trading now actually looks like, volatility in dollar-yen is at multi-month highs across the curve.
The uptick follows a period of historically low volatility across financial markets, with abundant policy support from global monetary authorities having helped to keep movements in check. That ended when the coronavirus roiled stocks, commodities and other assets, prompting speculation that central banks around the world might have to cut interest rates further to support the economy.
Volatility Is Another Call Currency Traders May Have Got Wrong
At the same time, currency volatility gauges are beginning to track their counterparts for interest rates in an about turn after decoupling for the better part of 2019. If that correlation holds, as long as efforts to price the next moves by the world's major central banks remain a two-way trade, hedging moves in major currencies could become a costly exercise.
"FX vol remains very low in comparison to other asset classes," said Alan Ruskin, chief international strategist at Deutsche Bank AG. "But it's getting a little dragged along for the ride."