Crypto Comes to S&P 500 Via Tesla's $1.5 Billion Bitcoin Bet
(Bloomberg) -- When Tesla Inc. joined the S&P 500, people balked. Wasn't that a lot of volatility to embed in the world's most important stock index? Turns out they had only part of the picture.
Founder Elon Musk opened a new chapter in the saga of his electric-vehicle maker with a disclosure Monday that Tesla invested $1.5 billion in Bitcoin and intends to begin accepting the cryptocurrency as a form of payment. The move comes less than two months after the company was added to the S&P 500 in the index's largest-ever inclusion.
For anyone who worried Tesla's high price and share turbulence was an issue for passive investors, this is something new to consider. Tesla is one of the S&P 500's biggest members with a weighting of almost 2%, meaning at least a dollop of the roughly $11.2 trillion of money tracking the benchmark is now exposed to a cryptocurrency known for its wild swings.
"It's absolutely a fascinating story to think S&P 500 investors now are investors in Bitcoin," Phil Toews, chief executive officer of asset manager Toews Corp. "Just absolutely mind-blowing."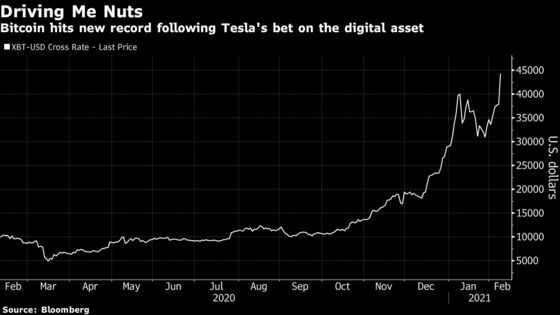 Tesla isn't the first to make a foray into cryptocurrencies -- other companies have made similar investments. MicroStrategy Inc., a software firm, has spent about $3 billion on Bitcoin, while Square Inc., headed by longtime crypto advocate Jack Dorsey, announced that it converted about $50 million of its assets into the coin as of the second quarter of 2020. But those companies aren't members of the S&P 500, limiting the number of mom-and-pop equity investors who were exposed to Bitcoin.
Tesla has surged 460% over the past year and more than doubled since the S&P Dow Jones Indices said in November that the vehicle maker would be added to the index the following month. The announcement spurred warnings over what impact Tesla's entry would have on the S&P 500, with the likes of Research Affiliates founder Rob Arnott cautioning that benchmark overseers tend to "buy high and sell low."
While Tesla's Bitcoin purchase indirectly exposes S&P 500 investors to crypto, at least one knowledgeable observer doubts it would've kept the carmaker out of the storied index.
"The index is designed to measure the U.S. equity market, not to judge or second-guess management decisions on cash management or strategy," David Blitzer, who headed the S&P Dow Jones Indices selection committee until 2019, said in an interview. "The index methodology doesn't provide for dropping a company based on a management decision except in extreme cases such as an impending bankruptcy."
Ray McConville, an S&P Dow Jones spokesman, declined to comment on Musk's move.
Bitcoin, coming off a 300% gain in 2020, has added 50% this year. It hit an all-time high of $44,795 on Monday following Tesla's news. Its price has been sensitive to Musk's proclamations on cryptocurrencies in recent weeks -- it surged at the end of January, for instance, after Musk changed his Twitter profile to "#bitcoin" with an emoji, which he later took down. He again sent waves through the cryptosphere a few days later when he declared on social audio app Clubhouse that he was a supporter of the largest digital asset.
In December, Musk inquired on Twitter about converting "large transactions" of the electric-car maker's balance sheet into the coin. MicroStrategy CEO Michael Saylor urged him to make the move, writing that he'd be doing his investors a "favor," and adding that other S&P 500 firms would follow his lead.
Many analysts argue against such a tactic, often citing Bitcoin's volatility as well as its vulnerability to hacks and fraud. The token has posted an average daily move of 5.2% this year, according to data compiled by Bloomberg. That compares with swings of 0.8% for the price of gold, which is sometimes compared with digital assets.
To JJ Kinahan, chief market strategist at TD Ameritrade, Tesla's move could mean heightened volatility for the index overall.
"You can buy any blue-chip company and they probably have some other things going on" that investors might not be aware of, he said by phone. "Now it's just a matter of do you believe that many of these companies are becoming more volatile than you're comfortable with?"