Oil Gains With Robust Global Demand Tightening Crude Market
(Bloomberg) -- Oil rose to the highest in a week amid expectations that recovering demand from the U.S. to India and Europe will further tighten global crude markets.
Futures in New York climbed 2.3% on Thursday after posting the biggest gain in three months on Wednesday. Gasoline demand is essentially back to normal in many of the biggest oil-consuming countries, with road traffic data showing a similar trend. Plus, over the past two weeks, Europe's air traffic came close to two-thirds of flights as the same period in 2019.
"The market clearly is more concerned about the supply-demand deficit being in deficit, and that the growth will continue, and that we're under-supplied in the near term," said Rebecca Babin, senior energy trader at CIBC Private Wealth, US.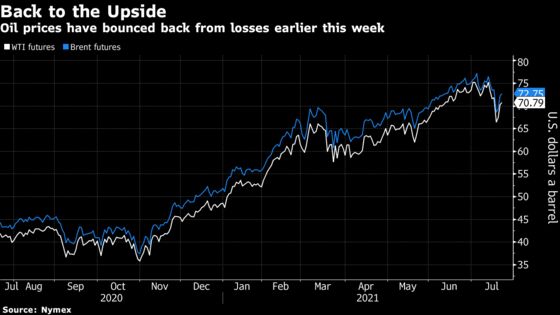 Oil has rebounded after a nearly 8% loss on Monday as fears around the delta variant and its impact on economic recovery shook broader markets. The price plunge came just after a weekend meeting of OPEC+, at which the 23-nation alliance led by Saudi Arabia and Russia finalized plans to restore halted production.
"It's just not enough oil," said John Kilduff, a partner at Again Capital LLC. "The 400,000 barrel-a-day increase monthly is not going to get the job done and you're going to see these inventories globally continue to tighten and tighten."
Prices:
West Texas Intermediate crude for September delivery rose $1.61 to settle at $71.91 a barrel on the New York Mercantile Exchange.
Brent for September settlement added $1.56 to end the session at $73.79 a barrel on the ICE Futures Europe exchange.
In the U.S., an inventory report released this week showed declining fuel and distillate supplies with the summer driving season well underway. Oil inventories at the nation's key storage hub in Cushing, Oklahoma, fell to the lowest since January 2020.
Meanwhile, China's Strategic Petroleum Reserve supplied about 3 million tons, or 22 million barrels, to processors earlier this month, according to people familiar with the situation. The move was intended to cool prices, the people said. The operation might weaken Chinese demand for imported crude.
Related coverage:
Venezuela's state-owned oil company imported a key component needed to achieve its goal of almost tripling crude production, defying U.S. efforts to isolate the Maduro regime's grip on power.
PBF Energy Inc. tumbled after California regulators voted to tighten pollution controls in the San Francisco Bay Area, the latest setback for the cash-burning refiner still reeling from a pandemic-driven collapse in fuel demand.
Russia is ready to introduce a ban on gasoline exports as soon as next week amid record-high wholesale prices on the exchange.
Iran readied its first batch of oil exports using a major new pipeline and loading terminal in the Gulf of Oman, which will allow the country to bypass the sensitive Strait of Hormuz choke-point.