Crowded Dollar Trades Face Reckoning With Funds Cutting Losses
(Bloomberg) -- The dollar's unexpected march could close one of the most-crowded macro trades of 2021, and the end may be brutal.
Shorting the dollar was a popular Wall Street call, but back-to-back monthly gains is proving painful. Net speculative short positions has dropped by almost $6 billion by one gauge based on data compiled from the Commodity Futures Trading Commission, leaving nearly $25 billion on the table.
The vigor of the world's reserve currency has confounded traders who had bet the rollout of Covid-19 vaccines would revive growth and risk appetite, deepening the dollar's losses. Instead, fears that central banks would reduce stimulus is fueling a global market rout while bringing flashbacks of the dollar gains seen in the 2013 taper tantrum and the 2018 emerging-market selloff.
"Everyone is buying back the dollar," said Kei Yamazaki, a senior fund manager in Tokyo at Sumitomo Mitsui DS Asset Management Co. which oversees $135 billion. "With the clear divergence in the monetary policy outlook between the U.S. and other major economies, it feels like the dollar's rally won't stop for now."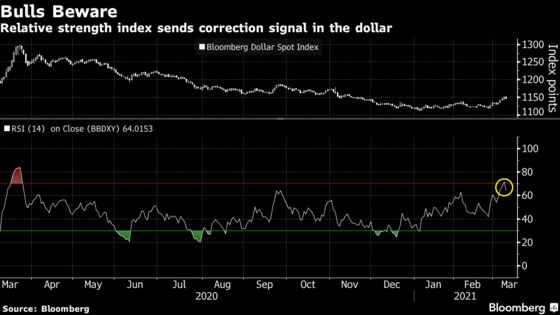 In 2018, an unwinding of short dollar bets led to a gain of about 5% in the Bloomberg Dollar Spot Index in the three months through June. Similarly in 2013, a reversal in bearish positions saw the same gauge rally by more than 3% in the first quarter.
Yet, in both episodes short-dollar positions were nowhere as severe as they are now. In 2018, they reached just under $24 billion, according to an aggregate of Commodity Futures Trading Commission data across a range of currencies.
Bloomberg's dollar gauge dropped 0.6% on Tuesday, the largest fall in over a month, almost erasing a rally on Monday that was spurred after the U.S. passed a much bigger-than-expected $1.9 trillion stimulus bill.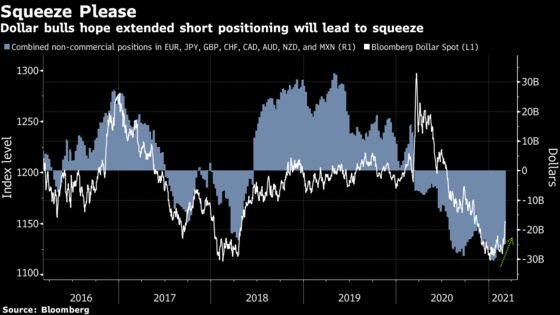 Hedge funds have already switched their positions on the dollar-yen trade as Treasury yields surged to pre-pandemic levels. Instead of shorting the greenback as they were a month ago, they've turned against the Japanese currency.
Shorting the dollar "has been an absolutely massive pain trade for everyone," said Nader Naeimi, head of dynamic markets at AMP Capital Investors Ltd., who switched from a short to long dollar position last month. "The shorts were so crowded, it was as if the rubber band was stretched too far -- it didn't make sense with U.S. growth outperforming."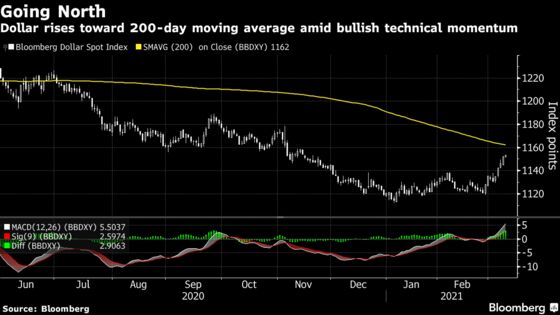 Technicals are another factor to watch. If investors continue to unwind bearish bets in the coming weeks, the dollar may breach its 200-day moving average -- a key resistance level -- and unleash a new round of gains.
Against this backdrop, some investors say Treasury yields will be key.
"We are taking protection on further dollar strengthening," said Paul Sandhu, head of multi-asset quant solutions for Asia Pacific at BNP Paribas Asset Management in Hong Kong. "We don't see so much room for further strengthening. I think when the yield curve starts to settle, you'll see the currency move starts to settle as well."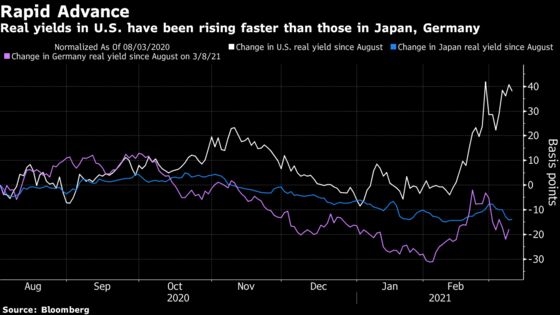 Yields on the 10-year benchmark have tripled from the low reached in August as a gauge of inflation expectations rose to the highest since 2014. While real U.S. yields are still below zero, their increase is in contrast to the declines in their counterparts in Japan and Europe.
Relative foreign-exchange strength is "based on interest-rate differentials and the U.S. real interest rate is rebounding faster than other major currencies'," said Ken Peng, head of Asia investment strategy at Citigroup Inc.'s private-banking arm. "Any crowded trade is bound to backfire --the dollar's strength can continue and last a little while."
Some investors are looking for the dollar's advance to fade so they can pile into emerging-market currencies that look set to benefit from a pick up in global growth and higher commodity prices.
Currencies in the developing world are attractive in the long term, said Pierre-Yves Bareau, head of emerging-market debt at JP Morgan Asset Management in London. "But we need to get this USD bounce passed."