Odey Steps Down From Running His Firm to Focus on Funds
(Bloomberg) -- Crispin Odey, one of the U.K.'s most bearish hedge fund managers, is stepping down from running his eponymous firm and rebranding several funds as he fights an indecent assault charge.
His London-based Odey Asset Management plans to create a new unit called Brook Asset Management to house the group of renamed funds, according to a statement Tuesday. Odey, 61, will now focus solely on managing client money and will start a new fund betting on higher inflation.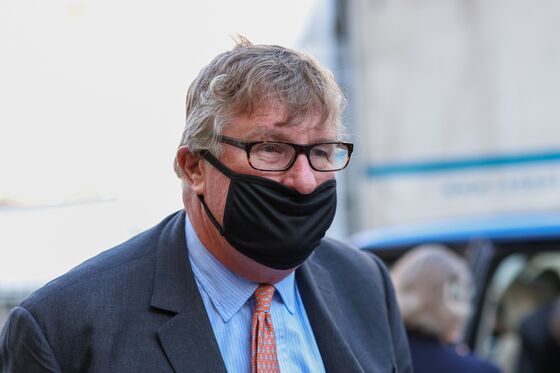 The moves cap a stormy period for Odey, who's lost money in five of the last six years as record markets defied his pessimism on stocks. That's seen assets at his company, run from a Georgian town house in London's Mayfair district, shrink to about $3 billion from $13 billion in 2015. Odey is now facing a court trial next year after pleading not guilty to an accusation of groping a young female banking employee more than 20 years ago.
In his hedge fund career spanning three decades, Odey has become best known for making bold wagers that the market consensus was wrong. While that strategy can sometimes rake in eye-popping gains, like his flagship fund's 53% gain in 2018, the losses can be equally stunning: the fund is down 62% over the past five years.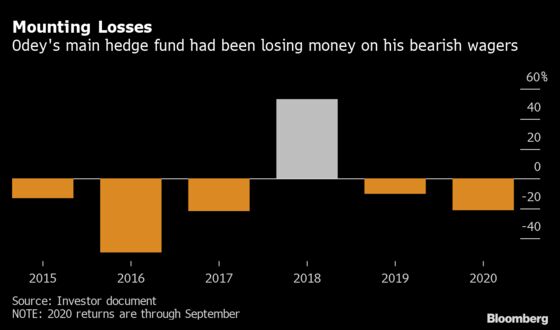 Born into a well-known family -- his grandfather a Tory MP, his mother from an old-line mercantile family -- the University of Oxford alumnus has been in the media limelight for his support of Brexit, vocal criticism of central bank policies, as well as his long running bearish bets. A few years ago, he warned that U.K. stocks could fall 80% after the Brexit vote; instead the benchmark FTSE 100 Index rose.
Odey started his firm in 1991 -- an idea sparked by his wife Nichola Pease -- and initially managed $150 million, including money from hedge-fund titans George Soros and Paul Tudor Jones. While he may no longer be at the helm, the firm's fortunes are still closely tied up with Odey: he managed about a third of its overall assets at the end of June, according to a letter to investors.
Odey joins peers such as Alan Howard in giving up day-to-day management of their investment firms to focus on trading as rising volatility in the market requires dedicated attention. Billionaire hedge fund manager Michael Hintze made a similar move last year, bringing in financial industry veteran Xavier Rolet, the former CEO of the London Stock Exchange Group Plc, to succeed him as chief executive at CQS. Rolet has since left the firm.
Timothy Pearey becomes sole chief executive officer at Odey's company after previously sharing the role with him.
"I have always had a dedicated, professional team to manage the business, and this feels the appropriate time to relinquish sharing that responsibility in favor of focusing on investment and nurturing investment talent," Odey said in the statement.
Investment Week reported the changes at the firm earlier.