Cree's Strength Makes Short-Sellers' Worst Dreams Come True
(Bloomberg) -- It turns out that investors who were short shares of Cree Inc. and may have covered their positions yesterday were right to worry.
The semiconductor and lighting company jumped more than 5 percent, rising a fourth day, after beating first quarter estimates. Today's gain comes on the heels of yesterday's bump, which some analysts attributed to short covering by investors ahead of Cree's earnings report. Cree is outperforming the Philadelphia Semiconductor Index (SOX) index for a second day.
"Over the last several weeks, there has been a bear call in Cree and the premise is that the market outlook and implied revenue for Cree is a top," Roth Capital analyst Craig Irwin said in a phone interview yesterday. "They're just dead wrong."
Irwin was correct. Cowen's Jeffrey Osborne also noted that short sellers may have been getting nervous about the potential for a stronger-than-expected earnings report.
The 10-day average days-to-cover, according to financial analytics firm S3 Partners, stood at nearly 9 days on Tuesday and a high number typically can expose a stock to potential short squeezes. By contrast, lighting peer Acuity Brands Inc.'s days-to-cover stands at 3, while SOX component Lam Research Corp., the second-best performer Wednesday after its results, has a days-to-cover figure closer to 3.5.
Irwin isn't alone in saying that investors and analysts may be wrong about Cree. "We feel the true magnitude of the company's exciting EV and 5G opportunities may not be fully captured in our or Street estimates yet," wrote Piper Jaffray's Harsh Kumar in a note following the results. He rates Cree an equivalent of neutral with a $45 price target.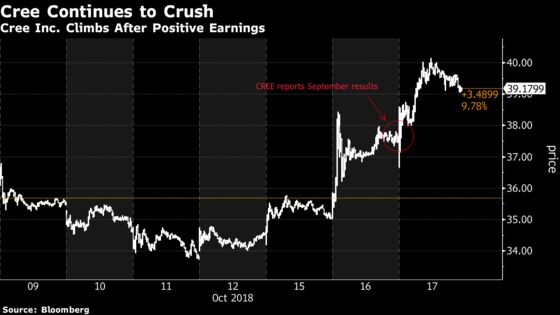 Both Irwin and Kumar note that the power-semiconductor industry, a $400 billion global market today, might be on the verge of momentous change, as silicon-carbide (SiC) becomes more important to the largely silicon-based market.
"We feel Cree has some very interesting Silicon Carbide materials" and their "technology is hard to replicate at the materials level," Kumar wrote. "Cree could easily outperform the broader semiconductor market over the next 5-7 years given the opportunity SiC presents."