Coupon Payment Made; Plans Shift to Vehicles: Evergrande Update
(Bloomberg) -- China Evergrande Group made an interest payment on a dollar bond ahead of a Saturday deadline, sending the embattled developer's stock and bonds higher.
The company wired the $83.5 million payment and bondholders will receive the funds before Saturday, according to people familiar with the matter. A 30-day grace period for the bond coupon would have expired on Saturday after the firm missed the original payment date. An Evergrande representative declined to comment.
The payment offers some temporary relief for the world's most indebted developer, giving it more time to sell assets and raise cash to pay creditors and suppliers. The reprieve may be short-lived however, with more than $300 billion in liabilities still to be paid, analysts said. 
The company reiterated that it hasn't made significant progress selling assets.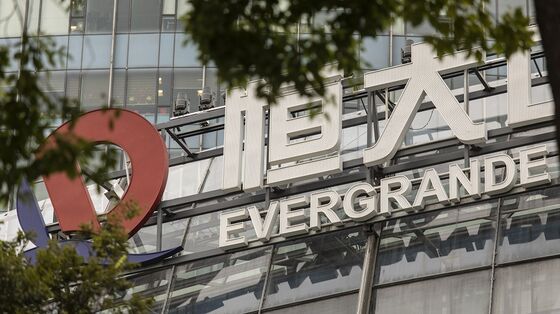 "We have seen this before - one bond repayment does not solve the company's problem and does not change the fact that it is the living dead," said Justin Tang, head of Asian research at United First Partners in Singapore.
China's banking regulator meanwhile dismissed concerns that the crisis enveloping Evergrande will have any major impact on the sector as a whole. Evergrande is an "individual" case, Liu Zhongrui, an official at the China Banking and Insurance Regulatory Commission, said at a briefing in Beijing.
Evergrande Secures Extension on Jumbo Fortune Bond: REDD
Morgan Stanley Team Turns Bullish China HY, Says Prices Too Low
China Property Easing Bodes Well for Developer Bonds: Goldman
Modern Land China Halted in Hong Kong Pending Inside Information
CHINA CREDIT WRAP: Evergrande Avoids Default With Bond Payment
Evergrande to Shift Business to Electric Vehicles From Property (9:27 p.m. HK)
Embattled China Evergrande Group is scaling down its real-estate operations to focus on making new energy vehicles, which will be its main business within 10 years, the Securities Times reported, citing Chairman Hui Yan Ka. 
Annual sales of real estate will drop to about 200 billion yuan ($31 billion) in 10 years from 700 billion yuan in 2020, Hui said at an internal meeting, according to the report. Evergrande won't sell unfinished houses, he said. 
Evergrande declined to comment on the report. 
Evergrande Bills Worth 149m Yuan Overdue, Jiangsu Canlon Says (6:48 p.m. HK)
Jiangsu Canlon Building Materials has 188m yuan of notes and accounts receivable from China Evergrande and affiliates, including 149m yuan of acceptance bills overdue, according to a statement to Shenzhen stock exchange. Canlon is consulting with Evergrande for solutions, including debt repayment with properties. The company stopped supplying Evergrande and affiliates in June.
Evergrande Reiterates No Significant Progress in Asset Sale (5:38 p.m. HK)
China Evergrande will continue to implement the measures to ease its liquidity issues as disclosed in its interim results announcement, according to a statement to Shenzhen stock exchange from Hengda Real Estate Group, a subsidiary of Evergrande. The comments are similar to those in a filing to HKEX by Evergrande Wednesday.
China Markets Begin Turnaround After Being Priced for Collapse (5:08 p.m. HK)
Investors have been running scared of China this year as a regulatory crackdown and fears of financial contagion have roiled the nation's assets. They now look to be making their way back.
Chinese authorities have in recent days allayed the biggest concerns held by global funds through speeches, state-media articles, looser policy and in some cases direct intervention. The message is clear: Beijing will act to avoid a property-market collapse, address energy shortages, contain China Evergrande Group's debt crisis, and limit its tech market crackdown. And for the first time, President Xi Jinping clarified what his "common prosperity" campaign is trying to accomplish.
Repayment Lifts Chinese Developers, Asia Junk Bonds (12:25 p.m. HK)
A relief rally boosted risk-sensitive assets including Chinese developers, junk bonds and the Australian dollar after Evergrande paid interest on one of its dollar bonds. 
The repayment helps soothe concerns that Evergrande is heading to a default after a plan to sell a stake in a unit collapsed this week. Contagion fears had gripped traders across markets, even as Chinese policymakers said the crisis will be contained and acted to ease pressure on other real estate companies.  
Evergrande Pays Bond Interest Due Saturday (12:20 p.m HK)
China Evergrande Group pulled back from the brink of default by paying a bond coupon before this weekend's deadline, according to people with knowledge of the matter, the latest twist in a months-long drama that has captivated global investors.
Speculation about a default has been swirling for months, stoking credit-market contagion among other cash-strapped developers and eroding confidence in a Chinese real estate market that by some measures accounts for more than a quarter of the economy.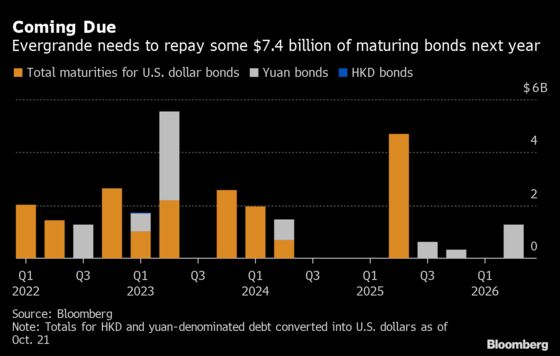 'Living Dead' Evergrande Not Out of Woods With Payment (12:15 p.m. HK)
Evergrande's payment of interest on a dollar bond is positive news for debt holders, but uncertainties remain on whether the distressed developer can secure cash for looming repayments, according to analysts.
Princeling's Surprise Default Roils Global Investors (7:45 a.m. HK)
While Zeng Jie's Fantasia Holdings Group is small relative to troubled giant China Evergrande Group, its shock failure to repay a $205.7 million bond earlier this month spurred a dramatic selloff in the offshore market, with some investors taking it as a harbinger of a worsening liquidity crisis for China's heavily leveraged property firms.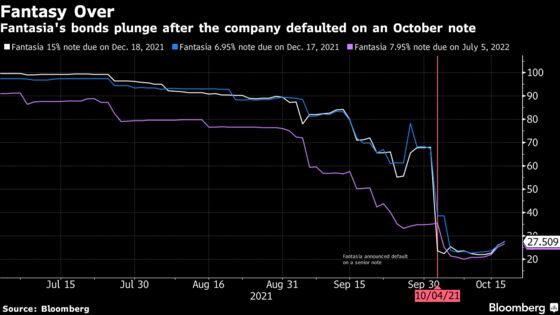 Offshore Creditors May Seek Talks After Grace Period (1:20 p.m. NY)
Offshore creditors to Evergrande were willing to seek a standstill and debt talks with the firm had it failed to make an interest payment by a Saturday grace period deadline, according to people with knowledge of the matter.
Bondholders, some of whom are getting advice from Kirkland & Ellis and Moelis & Co., were not planning to demand immediate repayment after the deadline in hopes that the company would come to the table to discuss options for the missed payment, said the people, who asked not to be identified discussing confidential matters.
Evergrande has now met the deadline and made the interest payment.
Hopson: Evergrande's Requests to Change Terms Unacceptable (Noon NY)
Hopson Development says Evergrande requested substantial changes to an agreement on the sale of a stake in its property-management arm after it was signed, including terms of payment, according to a filing to the Hong Kong stock exchange.
China Vows to Keep Property Curbs; Evergrande Risk Limited (4:25 p.m. HK)
China's banking regulator vowed to keep its curbs on the nation's property market, dismissing concerns that the crisis enveloping Evergrande will have any major impact on the credit profile of the sector as a whole.
The property controls have achieved good results and the government will refrain from using the real estate sector as a short-term economic stimulus measure, Liu Zhongrui, an official at the China Banking and Insurance Regulatory Commission, said at a briefing in Beijing on Thursday. Evergrande is an "individual" case and won't hurt the overall credibility of Chinese firms, which is backed by the country's economic stability, he said.
Dollar bonds 
Coupon due date

Amount

(million dollars)

EVERRE 8.25% due 2022
Sept. 23
83.53
EVERRE 9.5% due 2024
Sept. 29
45.17
EVERRE 9.5% due 2022
Oct. 11
68.88
EVERRE 10% due 2023
Oct. 11
42.5
EVERRE 10.5% due 2024
Oct. 11
36.75
TIANHL 13% due 2022
Nov. 6
41.93
TIANHL 13.75% due 2023
Nov. 6
40.56