Credit 'Zombies' on the Rise as Real Estate Firms Lead Charge
(Bloomberg) -- The walking dead of the corporate world are multiplying -- and the property industry sustains the most.
A new study on companies that have dodged default for years, even though they don't have enough money to pay interest, comes just as markets from Hong Kong to New York are roiled by real-estate giant China Evergrande Group's showdown with its creditors. 
Consultancy firm Kearney found their numbers have expanded by 9% globally in the past decade, in part because loose monetary policy has allowed them to keep rolling over debts. 
While "zombies" have been on the rise since the last financial crisis, the pandemic looks likely to bolster their ranks, with more companies seeking waivers after taking on unsustainable piles of debt when economies were shuttered.
The OECD defines zombie companies as those that have been trading for more than 10 years and have been unable to cover their interest burden from their operating revenues for three consecutive years. 
Kearney studied records of 67,000 listed companies from 152 countries. It found:
7.4% of real-estate firms were zombies
5.9% of healthcare
5.5% of telecommunications and media
5.1% of travel and tourism
Within retail, online retail had a slightly bigger share of zombies than brick-and-mortar counterparts, potentially due to the low profitability of online players, according to the report.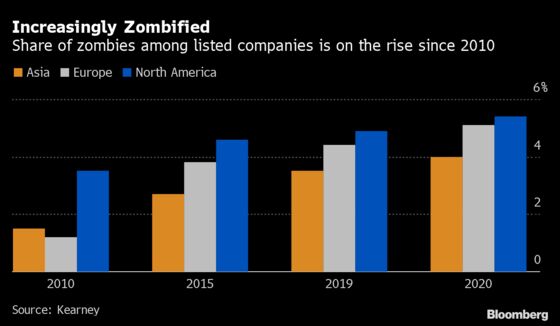 At least 5 issuers are offering debt on European markets on Thursday, with new issuance volumes of at least EU2.25 billion-equivalent.
Bank of England voted to keep bond-buying target and interest rate benchmark unchanged at a record-low 0.1%
Ashmore Group Plc's Jan Dehn is set to leave the firm, ending a 16-year stint at the emerging market-focused money manager
SMCP's majority shareholder, European TopSoho's, failed to redeem at maturity EU250 million 4.0% bonds exchangeable into SMCP shares
Financial regulators in Beijing issued a broad set of instructions to China Evergrande Group, telling the embattled developer to focus on completing unfinished properties and repaying individual investors while avoiding a near-term default on dollar bonds.
Global investors will focus on China Evergrande Group's $83.5 million interest payment due Thursday on a five-year dollar note
The People's Bank of China pumped in 110 billion yuan ($17 billion) of cash with seven- and 14-day reverse repurchase agreements.
Four Chinese firms were offering dollar bonds Thursday, ending a three-day lull in the Asian credit market amid holidays and concern about contagion from the distressed property giant Evergrande
Federal Reserve Chair Jerome Powell said there is little direct U.S. exposure to debt of the Chinese company Evergrande but said it could impact global financial conditions
Powell said the Fed could begin scaling back asset purchases as soon as November and complete the process by mid-2022
The takeover of medical supply company Medline Industries Inc. is being funded by the largest leveraged buyout loan in three years
A gauge of volatility in the $4 trillion market for state and local-government debt has tumbled to just shy of a record low set in early January