Credit Suisse to Exit Prime Services in Sharper Wealth Pivot
(Bloomberg) -- Credit Suisse Group AG will exit the hedge fund business at the heart of the Archegos Capital Management scandal and shift more resources to wealth management as it seeks to draw a line under a tumultuous year.
The bank is discontinuing most prime brokerage after the implosion of Bill Hwang's family office cost it billions of dollars and is moving about $3 billion of capital from the investment bank to the private bank. The Swiss lender is also simplifying its structure into four divisions, including a single unit that groups together its wealth management businesses, as reported earlier this week by Bloomberg.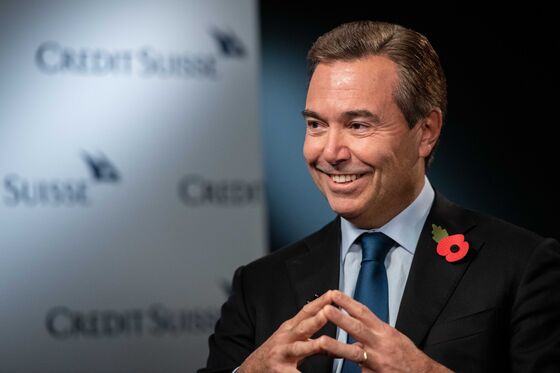 Chairman Antonio Horta-Osorio has spent the past six months conducting a root-and-branch review of Credit Suisse after disastrous risk lapses wiped out billions in profit, plunged the bank into crisis and led to an overhaul of top management. He stopped short of the radical changes that characterised Deutsche Bank AG's overhaul three years ago, electing to pare back areas that backfired while investing in the more stable businesses of helping the world's wealthy manage their fortunes. 
The strategy update is "potentially less radical than some had hoped," Citigroup Inc. banks analyst Andrew Coombs wrote in a note to investors. He expects the update to be "met with mixed reviews" as new targets rely on revenue growth rather than absolute cost savings.
The shares fell as much as 5.8% and were trading 5.2% lower as of 4:12p.m. in Zurich after the strategy review, erasing gains from earlier this week. Bank stocks across Europe also fell after the Bank of England shocked markets by keeping interest rates on hold.
Read more about Credit Suisse's results and strategy:
Credit Suisse flags fourth-quarter loss in year to forget
CEO says exiting prime services was tough choice
Top Live blog following the firm's presentations
At the heart of the changes are also an attempt to simplify reporting lines and complex overlapping businesses with the creation of four units: wealth management, the investment bank, the Swiss bank and asset management. That removed in particular the regional autonomy that Asia had enjoyed under former Chief Executive Officer Tidjane Thiam. 
Credit Suisse said it would give further updates on leadership of the various businesses "nearer to the implementation date."
The bank will add 500 relationship managers over the next three years and exit 10 markets that it sees as non-core as part of the wealth management strategy. On the other side, the investment bank is following larger rival UBS Group AG in further pivoting to businesses that use less capital, such as advising companies on mergers and acquisitions. It also plans to focus on businesses where it has top positions, such as in leveraged finance and credit, while cutting back in other areas and markets. 
The bank updated several goals and created new ones. The bank is targeting a return on tangible equity -- a key metric of profitability -- of greater than 10% by 2024, compared with an earlier medium target of 10% to 12%. It's aiming to distribute 25% of profit in 2022, after suspending its share buyback earlier this year.  
What Bloomberg Intelligence Says:

"A simplified corporate structure is set to boost efficiency and controls. A return on tangible equity target of 10% or more by 2024 appears achievable to us, as does a 25% capital payout in 2022, albeit at the low end of global peers."

-- Alison Williams, BI banking analyst

Click here to read the research.
In the third quarter, the bank can at least point to progress in several businesses that it's seeking to prioritize. Revenue at the advisory business almost tripled from a year earlier as Credit Suisse took advantage of the boom in M&A activity, while the bank added almost $5 billion of net new money in Asia and the international wealth management business.
"Overall, we welcome the mix change towards more capital being invested relative in wealth management with a temporary reduction in investment bank capital," JPMorgan Chase & Co. analyst Kian Abouhossein wrote in a note to investors, adding that he sees "most changes as limited so far." Some analysts also questioned why the bank didn't give more detail on cost reductions.
The changes are Horta-Osorio's first big public attempts at rebooting the lender. Since taking over in April, he's mostly focused on rebuilding the ranks of the risk division, after failures led to the departure of former risk and compliance head Lara Warner. Recent hires include David Wildermuth from Goldman Sachs Group Inc. as chief risk officer and Rafael Lopez Lorenzo as chief compliance officer. 
"Risk management will be at the core of our actions, helping to foster a culture that reinforces the importance of accountability and responsibility," Horta-Osorio said in the statement. The new strategy, "should enable us to achieve sustainable growth together with substantially lower risk and to deliver lasting value for all our key stakeholders."
While the reorganization largely undid Thiam's structural changes from six years ago, there was one echo between the new strategy and Thiam's early days: both involved writing down goodwill from the 2000 acquisition of Donaldson, Lufkin & Jenrette that built the modern Credit Suisse investment bank.