Credit Suisse Pick That Went Sour Ends Up in Banker Appeal
(Bloomberg) -- Five months after Patrice Lescaudron was convicted in one of Switzerland's biggest white-collar crime cases, an appeals court has put the spotlight back onto the former Credit Suisse Group AG banker.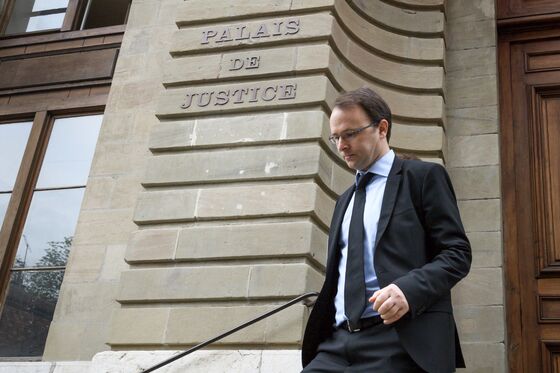 Geneva Prosecutor Yves Bertossa must go back and investigate whether Lescaudron should have been charged for mismanaging two of his clients' investments, the court ruled in the June 26 decision. Bertossa had dismissed the allegations from his indictment of Lescaudron a year ago.
The complaint revolves around investments Lescaudron made in shares a decade ago of an Austrian property developer that went badly wrong for the two Russian clients, who said they had never heard of Meinl European Land Ltd. The stock, once in vogue as a gateway to Eastern Europe, had been suggested by the bank and how its performance was shared with clients bears further scrutiny, the court said.
The prosecutor's finding that the clients gave their permission for the Meinl trades isn't admissible without additional elements to back it up, the appeal judges wrote.
"Even in the hypothesis that these transactions were in accordance with the instructions of the appellants," the trio of appeals court judges wrote in a ruling seen by Bloomberg News, "one may wonder about the actual information that was communicated to them or should have been, prior to certain transactions, given we're talking about a stock that was recommended by Credit Suisse and monitored by the bank."
The appellate ruling is the latest development in a case that dates back nearly three years when Lescaudron's deception was first uncovered after a massive wrong-way stock bet on a Californian drugmaker. The 55-year-old French cosmetics executive turned wealth manager had actually begun racking up losses on behalf of his clients as early as 2007. He then covered up the losses and began making unauthorized trades in a bid to recoup the losses.
Lescaudron was convicted in Geneva five months ago of fraud, forgery and criminal mismanagement. Credit Suisse, based in Zurich, consistently said before and during the trial that Lescaudron was a lone wolf who hid his deception from his employer.
A spokeswoman for Credit Suisse declined to comment. Simon Ntah, Lescaudron's lawyer, is away this week and a colleague didn't return a message seeking comment. A spokesman for the Geneva Prosecutors' Office acknowledged the appeal was successful, but declined to comment further.
Two appeals of the indictment filed by other Lescaudron clients were rejected. Rulings from Swiss courts aren't typically released to the public.
Meinl European Land appeared to be hiding a "Ponzi scheme," the appeals court judges wrote early in their 35-page decision, citing the findings of a private investigator hired by one of the two Russian clients to interview Lescaudron.
Shares of Meinl lost more than half their value in 2007 after Austrian regulators opened an investigation into allegations the company misled investors by buying back nearly double the volume of company shares that it told shareholders it would repurchase. Five members of Meinl's management board were each fined 20,000 euros ($23,300) by the Austrian Financial Market authority later that year.
Meinl, renamed Atrium European Real Estate in 2008 after an ownership change, described the verdict as "internally consistent' and its arguments "inconclusive" but pledged to improve its corporate governance and communication with investors.
The judges also cite the investigator's point that Credit Suisse managers recommended Lescaudron not tell his clients about their Meinl losses. Though the judges stop short of endorsing either of those points in their conclusion, the judges' language hints at the question of whether any of Lescaudron's colleagues or bosses knew about his deception. Up until now, that has been something that only lawyers for the jilted clients have alleged.
The appeals court decision "confirms that my clients were victims of a massive fraud and that the confiscation of their accounts in favor of the bank ordered by the judge was illegal," Giorgio Campa, lawyer for the two Russian businessmen Zurab Lysov and Sergey Egorov, said by phone.
The pair each had more than $100 million invested with Credit Suisse, and together lost at least $17 million in 2007 and 2008 when shares of Meinl went into free fall, according to their lawyer.
Separate from Campa's appeal of the June 2017 indictment, Credit Suisse wrote to the appeals court in May asking it to acquit Lescaudron of a conviction on a count related to Lysov and Egorov, without giving a reason for the appeal. Credit Suisse is trying to overturn the the single mismanagement charge because, unlike fraud or forgery, a conviction carries broad implications for what the bank may have to pay out in civil lawsuits, lawyers involved in the case have suggested.
Nearly all sides in the Credit Suisse case are appealing aspects of the February decision, with decisions expected this autumn.