Credit Suisse Joins BofA in Warning Over Tech Crowding Risk
(Bloomberg) -- Hedge funds haven't been able to quit technology stocks even as the group tumbles toward a third straight loss. The love affair may not end well, Credit Suisse warns.
Money managers that utilize both buy and sell strategies "have yet to see a material reduction" in their holdings after Facebook's fiasco last week, strategist Mandy Xu wrote in a note, citing Credit Suisse's data on hedge fund clients. Tech and internet retail stocks accounted for half of their total net long exposure in the U.S.
"Crowding is a key issue," Xu said. "The question going forward is whether this will be viewed as an idiosyncratic miss or if we will see further de-risking in the sector."
The NYSE FANG+ Index, tracking the FAANG bloc of Facebook, Apple, Amazon, Netflix and Google parent Alphabet along with some Chinese internet stocks, dropped 2.8 percent as of 4 p.m in New York. The gauge rounded out the biggest three-day retreat since August 2015, having slumped 9 percent.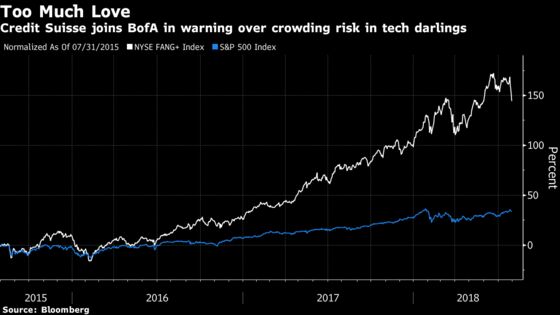 Xu is joining a growing chorus of Wall Street researchers warning about increasing risk in tech megacaps. Last week, Bank of America strategists led by Michael Hartnett recommended investors bet against the FAANG complex, saying Facebook's hammering is a sign of a peaking market.
Mike Wilson at Morgan Stanley on Monday reiterated his bearish call on tech high-flyers, urging investors to seek safety in shares with cheaper valuations as the market is likely to be headed for the biggest correction since February. While the magnitude of losses is no worse, the pain for active funds will be more pronounced should money start to rotate out of their favorite industries, such as tech.
"The selling has just begun," Wilson wrote in a note to clients. "It could very well have a greater negative impact on the average portfolio if it's centered on tech, consumer discretionary and small caps, as we expect."
The tech-heavy Nasdaq indexes fell more than 1 percent Monday, more than double the declines in the S&P 500 Index and the Dow Jones Industrial Average.
Not all Wall Street prognosticators are worried about the crowding risk in tech shares. David Kostin at Goldman Sachs kept his bullish stance, saying regulatory filings showed hedge funds and mutual funds trimmed their tech exposure in the first quarter to levels below where they were over the last two years.
"Overall portfolio length has declined significantly in recent months, reducing concerns of crowding," Kostin wrote in a note Friday.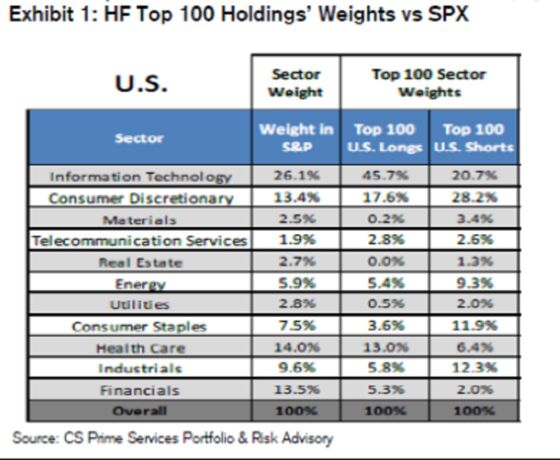 Still, going long the FAANG bloc was described as the most-crowded strategy for a sixth month in BofA's latest survey of money managers. The group has rallied an average 35 percent in the first six months of the year, compared with 1.7 percent gain in the S&P 500.
Going by options trading on the largest ETF tracking the Nasdaq 100 index, anxiety over tech stocks is rising. The cost of bearish one-month contracts for the Invesco QQQ Trust jumped to a record high last week relative to bullish ones, data from Credit Suisse showed. Put volume surged to 2.5 times the 20-day average, compared with a 45 percent increase for calls.
"Perhaps because of the crowding risk, we've seen a significant increase in implied volatility in QQQ even though most of the large cap Tech companies have already reported earnings," Xu said. "For investors who want to protect against a larger pull-back in the tech sector in the near term, we like buying put spreads in QQQ as a way to take advantage of the steep skew while cheapening upfront premium."