Credit Suisse, Goldman Downplay Market Risks From Earnings Slump
(Bloomberg) -- Strategists at two of Wall Street's biggest firms are downplaying the risks posed by a looming earnings recession for corporate America, saying weakness among megacaps is masking broad-based profit growth.
Analysts forecast S&P 500 companies will see profits contract in the current quarter, marking the first decline in three years, with a second-quarter drop also looking likely -- a prolonged slump that has the potential to derail a market that's soared 18 percent since Christmas.
The threat to equities isn't that dire, Goldman Sachs strategists said, because the downturn is heavily influenced by the likes of Apple and other large companies that account for much of the S&P 500's per-share total. Look at each company's expected profits individually, and the median index member will generate profit growth of 3.6 percent in the period instead of the projected 0.7 percent decline overall, according to data from Credit Suisse.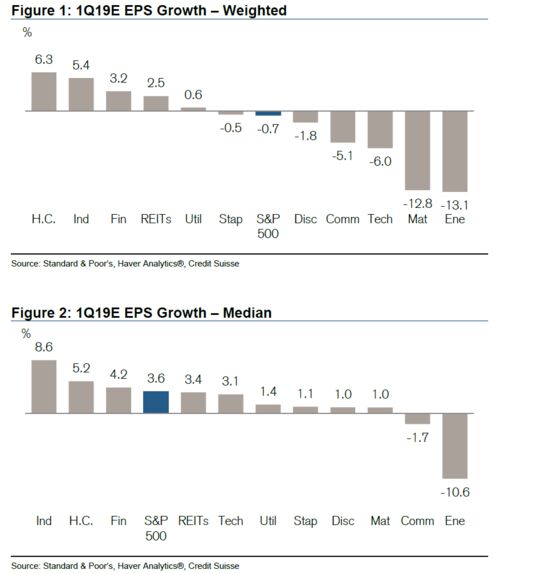 "While many are using the 'R' word to describe corporate profits, a review of the data points to a more benign backdrop, with a handful of very large companies skewing projections," Jonathan Golub, chief U.S. equity strategist at Credit Suisse, wrote in a note to clients Monday.
While that doesn't change the fact that investors get less bang for the buck when the combined profits from the whole market are shrinking, anyone fretting that two consecutive quarters of earnings declines will derail the bull run can take comfort that the slump isn't widespread. Only two of the 11 main S&P 500industries -- communication services and energy -- showed negative growth on a median basis. Six are down when looked at on a market-cap basis.
The debate over the trajectory for corporate profits has been raging after Morgan Stanley's Mike Wilson declared earlier this month that the "earnings recession is here" already.
For now, stocks have ignored the danger. Up in seven of the last eight weeks, the S&P 500 has soared amid progress in U.S.-China trade talks and a more friendly Federal Reserve. In line with the lapse in megacap earnings, a version that strips out the size bias has beat the S&P 500 by more than 2 percentage points over the stretch.
"The slowdown that we are seeing for the start of 2019 does not appear to be broad-based," said Mark Haefele, global chief investment officer at UBS Wealth Management. "The impending weakness partly reflects sector-specific headwinds, such as a maturing smartphone market, an inventory overhang in semiconductors, and energy firms contending with year-on-year declines in oil prices," he said. "A broader metric of the earnings outlook, however, looks brighter."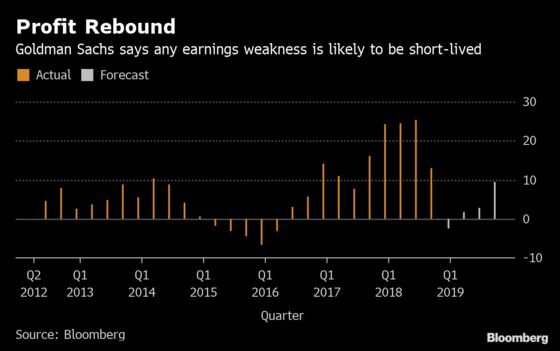 To David Kostin at Goldman Sachs, an earning recession, even if it comes true, is no threat to the bull market because it'll be short-lived. Factors underpinning the current weakness, such as a global slowdown, a stronger dollar and lower oil prices, will turn around to support a rebound in earnings starting in the fourth quarter, he said.
With stocks falling to the brink of a bear market in December, much of the current bad news had been priced in. After the latest recovery, earnings and share prices have realigned. According to data from Goldman Sachs, the S&P 500's 6 percent slide from its September record matches exactly the reduction in 2019 earnings estimates.
Still, shares are hardly expensive. At 16.2 times forecast profit, the S&P 500's multiple is down from a peak of 18.5 in 2017, trailing its five-year average.
"Earnings revisions drive equity prices," Kostin wrote in a note Friday. "The market has already priced the slowdown in earnings growth and revisions have troughed."