Market Riffraff Rallies as Rate Fears Fade Into Background
(Bloomberg) -- Equity investors seem to have reconsidered their verdict on companies most at risk of a credit seize-up. For a day, anyway.
An erstwhile rogues gallery of small caps stocks, stocks with weaker balance sheets and ones with high short interest suddenly bounced Tuesday, leading the market to its biggest rally since March. The rebound conforms to a narrative in which last week's sell-off was a knee-jerk repricing of risk related more to how fast Treasury yields rose rather than how high they got.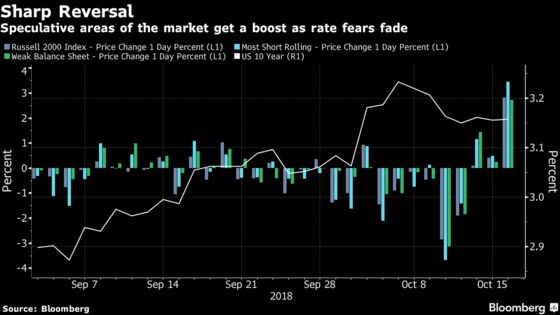 "If you step back and look at the markets with a detached viewpoint, nothing has really changed," Krishna Memani, the chief investment officer at OppenheimerFunds Inc., said by phone. "All you've had is a couple percent correction. Beyond that, the underlying trends are the same and the global drivers are essentially the same."
The Russell 2000 Index rose 2.7 percent as of 3:43 p.m. in New York Tuesday, the small cap gauge's best day since Donald Trump won the presidential election in 2016. Yes, 10-year Treasury yields may still be above the once psychological level of 3 percent, but many of the arguments of the "America First" trade remain in place.
"Small-caps stocks have been leading the markets on the way down, they could be leading the markets on the way up," said Walter Todd III, chief investment officer of Greenwood Capital Associates. "There is a strong negative sentiment connected to higher rates, but there a lot of positives: they are not as exposed to overseas volatility, they are the biggest beneficiaries of the tax cuts, they are doing OK as the broader economy is showing signs of strength."
Financially shakier companies also got a boost. A basket of companies compiled by Goldman Sachs with weaker balance sheets rose for the third straight day Tuesday, posting its best three-day performance since mid-February following the equity market correction. Before last Friday, the gauge had only gained once in fourteen days, and barely.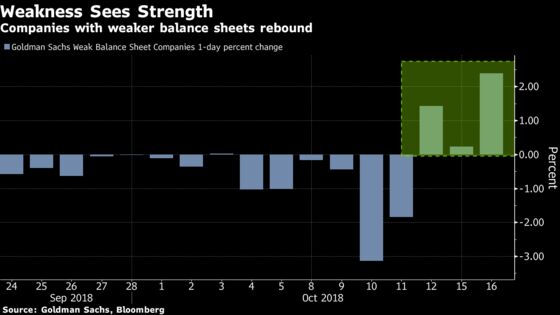 A short squeeze was also in evidence. Most-hated stocks rallied as higher prices forced bears to curb losses by buying back the shares that they had bet would decline. A Goldman Sachs index of stocks with the highest short interest jumped 2.8 percent, the most since the day after the U.S. presidential election in 2016.
The Nasdaq 100 was up 2.9 percent at 4 p.m. in New York.