Credit Markets Suffer Worst October in a Decade, Led by Junk
(Bloomberg) -- Last month was brutal for U.S. credit markets, with both high-yield and investment-grade bonds suffering the heaviest losses for an October since 2008.
High yield's 1.6 percent fall was the steepest for the 10th month of any year since 2008, when the market tumbled almost 16 percent following the collapse of Lehman Brothers in September that year.
The recent equity and oil slumps, Cboe Volatility Index spike and rising concerns about trade wars, Brexit and Italy have pressured junk bonds, which saw billions of dollars of fund outflows last month. Rising rates have hammered the longer duration investment-grade index, amid concerns about credit quality in the BBB rated tier.
High yield hasn't seen such a large monthly loss since January 2016, when oil plunged. The junk bond market is still up 0.93 percent year-to-date, well short of the 2.57 percent gain it boasted at the end of September.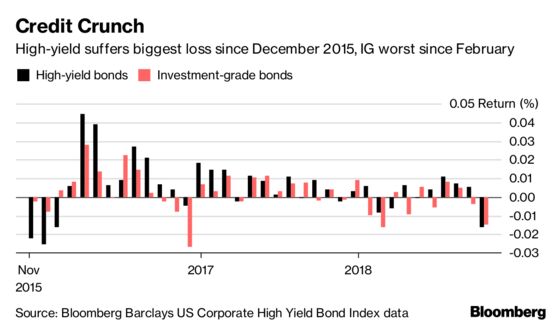 Last month's 1.46 percent slide in investment-grade bonds was the worst since February. You'd have to go back to the 6.44 percent plunge of October 2008 to find a bigger drop in the tenth month of a year.
And after racking up a 3.76 percent loss through last month, high-grade bonds are on course for their worst full year return since 2008, when they lost 4.94 percent.
Despite that, Bank of America credit strategists led by Hans Mikkelsen sound optimistic.
"We doubt the underlying story has changed," said the strategists in a note dated Oct. 31. "Hence today in our view marks the beginning of a long year-end rally in credit."
(An earlier version of this story incorrectly stated that the October high yield loss was the biggest since December 2015)